UNITED NATIONS, Sept 9, 2009 (AFP) - The one-day UN meeting on climate change in New York later this month is intended to generate political momentum ahead of a landmark climate summit in December, according to a top UN official.
The September 22 talks are "intended to provide political momentum at the highest level to accelerate progress toward a deal in Copenhagen," said Janos Pasztor, director of UN chief Ban Ki-moon's Climate Change Support Team, at a news conference Tuesday.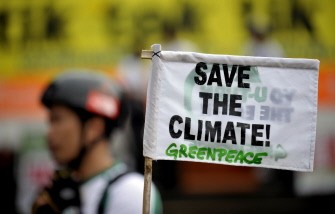 A cyclists ready for a bicycle tour of Manila, the Philippines to raise awareness on climate change waits for the trip to begin on September 8, 2009 (AFP photo)
UN officials said they expect many heads of state at the September meeting, including, in what would be his first time at top-level international climate talks, US President Barack Obama.
Saying that "progress has been much too slow" on negotiations, Pasztor noted there were only 15 more days of negotiations available ahead of Copenhagen.
"The full engagement of world leaders is absolutely essential," Pasztor urged, adding that all 192 member states of the world body are invited to attend the talks.
Although he said the informal talks on the sidelines of the UN's annual general assembly meet would not produce a formal declaration, the momentum should boost movement towards "a fair, effective and ambitious deal" in December.
In Copenhagen, world leaders will try to seal a new accord to fight climate change after the Kyoto Protocol requirements expire in 2012.
Speaking to AFP in Norway earlier this month, the UN secretary general criticized world leaders for often acting in the interests of their own countries.
"Climate change affects everyone. It doesn't respect borders. So political leaders should act as world leaders," Ban said.
Foreign ministers from major European countries meanwhile joined the pleas Tuesday for parties to the upcoming UN climate talks in Copenhagen to start negotiating earnestly, and said that only a wider deal in December would prompt the European Union to advance its own offer on emissions reduction.
"We are here with a warning, and the warning is that the world will sleepwalk towards December and not realise that it has to up its game if we are to get a deal," British Foreign Secretary David Miliband said in Paris.
"The warning is that Copenhagen is in the balance. The warning is that if we leave it to business as usual and negotiations as usual, we will not get the sort of deal that we need."