Hillary Clinton has accepted an offer to be secretary of state in her ex-rival Barack Obama's administration, the New York Times reported Friday, citing two confidants of the former first lady.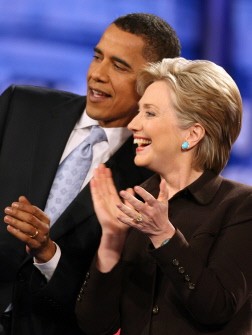 US Democratic presidential candidates, Illinois Senator Barack Obama and New York Senator Hillary Clinton arrive on stage for the Democratic Presidential Candidates Debate at the Kodak Theatre in Los Angeles,CA in this 31 January 2008 file photo (AFP Photo)
But amid a frenzy of speculation over the make-up of president-elect Obama's cabinet, Clinton's Senate office said that reports that she had signed up to become the face of US diplomacy abroad were premature.
The Times said that Clinton had made her decision after having a follow-up conversation with the president-elect, after their meeting in Chicago on the job opportunity late last week.
"She's ready," one confidant said, adding that Clinton, narrowly defeated by Obama in the epic Democratic primary race this year, had decided to give up her New York Senate seat.
But Philippe Reines, a senior advisor to Senator Clinton downplayed the Times report.
"We're still in discussions, which are very much on track, any reports beyond that are premature," he told AFP.
Earlier, transition aides to Obama said that the process of nominating Clinton was "on track" and that issues related to the disclosure of former president Clinton's business contacts had been resolved.