US Secretary of State Hillary Clinton on Sunday added Buenos Aires to what is now a six-country Latin American tour highlighted by a solidarity, albeit shortened visit to quake-stricken Chile.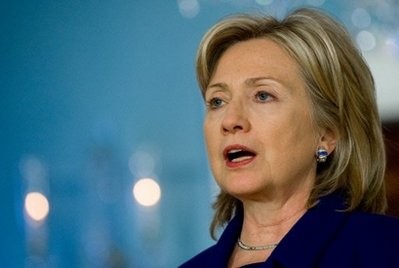 US Secretary of State Hillary Clinton, seen in Washington, DC, February 26, 2010. (AFP Photo)
With her schedule thrown into flux by the quake, Clinton will spend Monday night in the Argentine capital after a lightning visit to Montevideo, where she will attend Jose Mujica's inauguration as Uruguay's president, aides said.
The chief US diplomat dropped initial plans to spend the night in Santiago, the Chilean capital, but will travel there on Tuesday and spend a few hours at the airport, top Clinton aide Philippe Reines told traveling reporters.
There she will meet Chilean President Michelle Bachelet and president-elect Sebastian Pinera.
"We want to show America's support for the people of Chile while mindful of the realities on the ground," said Reines, the deputy assistant secretary of state, during a refueling stop in Puerto Rico.
Clinton's face-to-face meeting with President Cristina Kirchner of Argentina, which had been scheduled to take place on the sidelines of the inauguration in Montevideo, will now take place in Buenos Aires, aides said.
Clinton will also meet President Fernando Lugo of Paraguay in Buenos Aires, they added. That meeting had not been arranged earlier.
Saturday's quake, in which the toll has now topped 700 dead, comes six weeks after a massive temblor flattened the Haitian capital of Port-au-Prince and forced Clinton to call off an Asian tour when she was in Hawaii.
On January 17, she made a brief visit to Port-au-Prince airport to consult with Haitian President Rene Preval, five days after the quake struck and killed more than 200,000 people in the impoverished Caribbean country.
Relief and reconstruction in Haiti were also on the agenda for Clinton's tour -- that is also to take her to Brazil, Costa Rica and Guatemala -- as Latin American countries list help for Haiti as a regional priority.
Clinton is due in Montevideo for Uruguay's presidential inauguration of former leftist rebel Jose Mujica, an event analyst Michael Shifter said can be used to reinforce US support for democracy in the region.
Uruguay typifies a trend in which the region wants to show independence, but not belligerence toward the United States, according to Shifter, a leading analyst at the Inter-American Dialogue think tank.
Anti-US Venezuela is one of a few key exceptions.
Clinton will use the inauguration to show that the United States, which long viewed the region as its own backyard, accepts the new political realities and will work with both governments of the left and right, he said.
"She is picking up almost where Obama left off almost a year ago with the summit of the Americas, which was very promising and which raised expectations and then things got bogged down and sidetracked," Shifter said.
The Obama administration has faced criticism from various quarters over its response to the quake in Haiti, its handling of events after the June 28 coup in Honduras, and the pace of diplomatic engagement with communist Cuba.
It has also been criticized for a military bases agreement with Colombia, its push for anti-nuclear sanctions against Iran, and its slowness in naming key diplomats to the region.
Shifter said "this was not a smooth take-off for re-engaging with Latin America," which had taken a dim view of the counter-terrorism policies of the previous administration of president George W. Bush.
"She is confronting a region where there is a lot of good will and openness and interest in dealing with the United States but perhaps a little more skepticism and realism than there was a year ago," he told AFP.
Clinton is due to meet with Brazil's President Luiz Inacio Lula da Silva and Foreign Minister Celso Amorim on Wednesday in Brasilia, where she will raise US concerns about Iran's nuclear program.
Brazil, a member of the 15-member UN Security Council, has friendly ties with Iran, and hosted a visit by President Mahmoud Ahmadinejad last year. Lula is to travel to Iran in May.
Clinton will on Thursday visit Costa Rica where she will be the keynote speaker at the Pathways to Prosperity in the Americas ministerial meeting.
The secretary is also to meet separately with Costa Rican President Oscar Arias and President-elect Laura Chinchilla.
Clinton is set to make her last stop in Guatemala on Friday 5 for talks with President Alvaro Colom, as well as for a meeting with leaders of Central American countries and the Dominican Republic.