Secretary of State Hillary Clinton plans Saturday to honour the victims of last year's attacks in Mumbai when she begins a visit to India aimed at deepening ties with an emerging global player.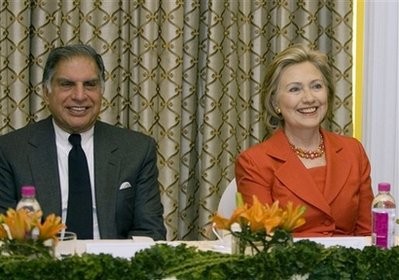 Tata Motors Chairman Ratan Tata, left, and U.S. Secretary of State Hillary Rodham Clinton smile during Clinton's meeting with a group of Indian businessmen, in Mumbai, India, Saturday, July 18, 2009.
But Clinton, on her maiden visit here as chief US diplomat, sought to allay fears that President Barack Obama's administration was pressuring India into seeking peace with Pakistan, which has been linked to the attacks.
A peace deal would allow Pakistan to turn its attention away from India, with which it has fought three wars, and focus entirely on beating an Islamist insurgency along the border with Afghanistan, a US priority.
Clinton, who arrived here Friday night, will begin her first full day with a commemoration at the Taj Mahal Palace and Tower Hotel, where she is a guest and where many of the 166 fatalities occurred in a siege by Islamist militants.
Media are barred from the event at 9:00 am (0430 GMT) because of what US officials called local sensitivities.
Clinton said it was wrong for Indians to fear that Washington was pressuring their government into resuming peace talks with Pakistan after an Indian journalist said such an impression existed.
"No, not at all," Clinton told journalist Rajdeep Sardesai with CNN-IBN television in an interview.
India and Pakistan launched a peace process in 2004 to resolve all outstanding issues of conflict, including a territorial dispute over the divided Himalayan territory of Kashmir.
India suspended the dialogue in the aftermath of the Mumbai terror strikes.
After talks Thursday in Egypt with his Pakistani counterpart Yousef Raza Gilani, Indian Prime Minister Manmohan Singh said negotiations with Pakistan would remain on hold until Islamabad takes action against the perpetrators of the attacks which New Delhi blames on the banned Pakistani militant group Lashkar-e-Taiba (LeT).
The Obama administration is keen to go far beyond security and bolster a whole range of ties with a country it sees as key to curbing climate change, reviving global trade talks and checking the spread of nuclear weapons.
Clinton's first stop in India's financial and entertainment capital also includes meetings with key business leaders, educational professionals and a women's group, as well as leading Bollywood actor Aamir Khan.
She heads to the capital New Delhi Sunday for talks with Singh and Foreign Minister S.M. Krishna before flying to Thailand to lead the US delegation at the Association of Southeast Asian Nations (ASEAN) talks.
In a front-page article in the Times of India newspaper Friday, Clinton emphasised the two countries' already close ties in medicine, finance and education.
Closer cooperation was vital to tackle global security threats, nuclear proliferation and climate change, as well as opening up trade and new markets, she wrote.
"The world has a lot riding on our cooperation," she said in the article.
Relations between Washington and New Delhi were frosty during the Cold War and the two countries were at loggerheads over India's decision in 1998 to test an atom bomb and gatecrash the elite club of nuclear-armed nations.
But ties have been transformed since the administration of George W. Bush last year signed a pact opening up sales of civilian nuclear technology to India for the first time in three decades.
Clinton's visit could see an announcement of the two locations India has chosen for US firms to build multi-billion-dollar nuclear power plants, aides said this week.
India's refusal to sign the international non-proliferation treaty (NPT) has hung over the deal but Clinton wrote in the Times of India that they were still committed.
During her visit, the two sides could also sign an end-use monitoring deal allowing Washington to make sure sales of military equipment are used for the purpose stated, aides said.
It could lead to a bonanza for US defence firms, analysts say.