Secretary of State Hillary Clinton heads to Mexico Wednesday armed with a tough new US strategy to fight the country's drug wars that shifts more of the burden to the US side of the border.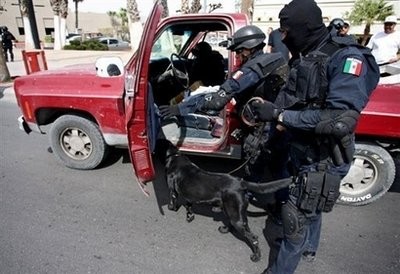 Mexican Federal Police patrol the streets of Ciudad Juarez, Mexico. (AFP Photo)
On the eve of her trip, President Barack Obama unveiled a strategy that appears to respond to key Mexican demands for bolder action within the United States, and vowed then to do more if needed.
"We are going to continue to monitor the situation. And if the steps that we have taken do not get the job done, then we will do more," Obama told a prime-time press conference.
White House officials Tuesday unveiled multi-agency plans to cut domestic drug consumption as well as stop cash and weapons flows from the United States to the drug cartels -- all steps that Mexican President Felipe Calderon has called for.
"It's very significant. We are sending millions of dollars in additional equipment to provide more effective surveillance. We are providing hundreds of additional personnel that can help control the border, deal with customs issues," Obama said.
Analysts say the strategy represents a break from the administration of George W. Bush, which offered to help Mexico fight the scourge even though it largely viewed it as a Mexican problem.
And the new administration is scrambling to coordinate strategy after the growing violence in Mexico -- with 1,000 dead so far this year -- started to spill across the border and threaten to become a US national security problem.
On Tuesday drug-related violence continued in northern Mexico with nine people killed.
Four people were killed in Ciudad Juarez, which has taken the brunt of the violence with nearly half of all drug-related killings last year, and lies across the border from El Paso, Texas.
In a separate incident, four students and a musician, all aged 18-22, were killed late Tuesday while driving in a pickup truck in El Oro, in Durango state bordering Chihuahua.
"We need to do more to make sure that illegal guns and cash aren't flowing back to these cartels. That's part of what is financing their operations. That's part of what is arming them," the US president said.
"That's what makes them so dangerous and this is something that we take very seriously and we're going to continue to work on diligently in the months to come."
A Mexican drug wars analyst with contacts in the Obama administration said: "I think this issue has caught up with them quicker than they expected.
"I think they knew Mexico was important, but I don't think they were prepared to be as intensely engaged right now on this issue," the analyst told AFP on the condition of anonymity.
"They're not quite sure how to get all the moving parts of the government working together," the analyst said, adding efforts had to be coordinated among the departments of State, Homeland Security, Justice and Defense.
Asked about Clinton's role, State Department spokesman Robert Wood said she would be "working closely with her counterparts in the government to do what we can to make sure that, first and foremost, we can secure our borders and, secondly, that we can help Mexico as it deals with this very serious drug problem."
Clinton, whose two-day trip includes stops in Mexico City and Monterrey, will be followed in a week by Attorney General Eric Holder and Homeland Security Secretary Janet Napolitano.
Obama is to travel to a summit with Calderon on April 16-17 after having met him eight days before taking office in January.
Members of the Obama administration intend to share the burden with Mexico, according to Andrew Selee, director of the Mexico Institute at the Woodrow Wilson Center.
"They see this as an actual shared responsibility, that we have to actually do something about consumption, the money and the guns on our side of the border," Selee told AFP. "I think that is a change in focus actually."
A senior State Department official spoke of an "evolution" toward a joint effort. "What we're seeing now is a concerted effort to make that shared responsibility real," the official told reporters on the condition of anonymity.
Vanda Felbab-Brown, a counter-narcotics analyst at the Brookings Institution, said it could take years before the administration reaps benefits from its new approach to blunt consumer demand, the "crux of the problem."
In the meantime, she expects Washington to do more to choke off the flow of weapons from thousands of weapons stores on the US side of the border, even if she fears the cartel will find other ways to buy arms on the global market.
"But I think diplomatically it's very important that the US makes an effort to show to the Mexican authorities as well as to the Mexican public that we share responsibility," she said.