KABUL, Oct 20, 2011 (AFP) - US Secretary of State Hillary Clinton was in Kabul for talks with the Afghan president on Thursday, stepping up a diplomatic drive ahead of international conferences aimed at ending the 10-year war.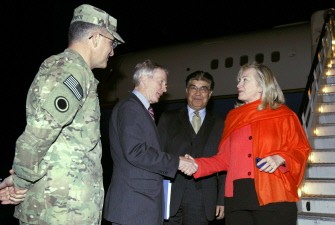 AFP - Afghan chief of protocol Hamid Saddiq (2nd R) and Lieutenant General Curtis Scaparotti (L) look at US Secretary of State Hillary Clinton (R) as she shakes hands with US Ambassador Afghanistan's Ryan Crocker (2nd L) upon her arrival in Kabul on October 19, 2011.
The top US diplomat was expected to meet President Hamid Karzai for talks before lunch, as she seeks to build on the "diplomatic surge" she announced earlier this year, a senior state department official told travelling media.
Ten years after the US-led invasion, Karzai's reconciliation efforts were derailed by the September assassination of peace broker Burhanuddin Rabbani and the militia are perceived to pose an increasingly wide threat in Afghanistan.
Concern is also growing among Afghans about the prospect of increased violence after 2014, when the US-led NATO mission is scheduled to withdraw all combat troops and hand over responsibility to local Afghan security forces.
"She wants to signal US support for a secure and stable Afghanistan," a senior State Department official told reporters on condition of anonymity.
"She will want to emphasise that the United States remains committed to Afghan reconciliation," he added, particularly in the wake of the September 20 assassination of Rabbani, a former president of Afghanistan.
Rabbani headed a government council seeking a political settlement with the insurgents. A powerful Tajik, he was a leader in the Northern Alliance that fought the former Taliban regime and assisted US troops in the 2001 invasion.
Before meeting Karzai, Clinton was to talk to civil society leaders in the capital, including Rabbani's son Salahuddin Rabbani, who now heads his father's political party, the Islamic Party of Afghanistan.
Another official said a conference of regional powers to be held in Istanbul in early November, and an international meeting of foreign ministers in Bonn, Germany, in early December, would be part of discussions.
After 10 years of military conflict in Afghanistan that has cost thousands of lives and hundreds of billions of dollars, Washington is grappling for a negotiated exit to the war ahead of the 2012 US presidential elections.
Tentative discussions with the Taliban aimed at full peace talks have so far come to nothing, officials acknowledge, and Western powers have been attempting to draw in the help of Afghanistan's neighbours with little success so far.
Many Afghans hold Pakistan responsible for the war's long course, given that senior Taliban and Al-Qaeda-linked militants have strongholds along the restive border that separates the two countries.
The United States recently vowed to strengthen its troubled alliance with Pakistan, knowing that the nuclear-armed nation will be a key stakeholder in any eventual political settlement in Afghanistan.
Diplomatic efforts were meant to complement a military surge of 33,000 troops sent into Afghanistan nearly two years ago to break the back of the Taliban insurgency.
The first tranche of surge troops returned home this summer, while the remaining 23,000 troops are set to return by the end of summer 2012, with all NATO-led combat forces scheduled to leave by the end of 2014.
There are currently 98,000 US troops out a total NATO-led force of 130,000 deployed to Afghanistan, fighting an insurgency that remains virulent across the country, with the war now focused on the eastern border with Pakistan.
But experts doubt the ability of the Afghan army and police to ward off the Taliban on their own, and US officials and officers have suggested that a smaller US military contingent could remain beyond the 2014 deadline in a combat role.
Long term strategic arrangements between the two countries would also be discussed during Clinton's visit, the senior official said.