The Clinton Global Initiative gathered more than $8 billion in pledges at this year's summit, surprising its organizers who had worried that the recession would lower the level of support.
The philanthropic effort started by former President Bill Clinton aims to tap wealthy donors for funds to try to solve some of the world's most pressing problems, from poverty to climate change.
"We were concerned, and we actually came into this CGI with more sponsorships than we had last year, under adverse circumstances," Clinton said on Friday at the closing session of the four-day summit.
The meeting brought together heads of state, financial leaders, corporate bosses and rights activists looking to deal with issues in education, health, energy and the empowerment of women.
Celebrities Bono, Brad Pitt and Quincy Jones turned out for the summit. The politicians included U.S. President Barack Obama and leaders of Argentina and Rwanda. Also in attendance was the managing director of the International Monetary Fund.
Ahead of the event CGI Chief Executive Robert Harrison guessed that the value of the programs to be unveiled would be less than the $8 billion worth of commitments made in 2008 but more pledges of action than the 250 commitments last year.
The fifth annual summit this year saw 282 pledges of action with a value of more than $8 billion.
The new commitments include plans to increase female employment in Africa, expand micro-insurance and distribute vaccines that would prevent cervical cancer.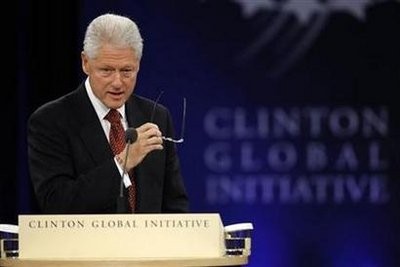 Former U.S. President Bill Clinton speaks at the Clinton Global Initiative in New York in this September 25, 2009 file photo.
Chief Executives
from
Exxon Mobil Corp
,
Dow Chemical
,
Wal-Mart Stores Inc
,
Coca-Cola Co
,
Goldman Sachs Group Inc
and
Kraft Foods
helped the 2009 summit see more participation from companies than in any prior year, Clinton said.
This year's event was also more interactive, with more than 9,000 people posting comments on CGI's Facebook page and the event averaging about 80 Twitter posts an hour throughout the week.