US Secretary of State Hillary Clinton left for a tour of Gulf Arab allies in a bid to tighten sanctions against Iran and win greater support for Iraq's new government, officials said.
In her five-day trip to the United Arab Emirates (UAE), Oman and Qatar, Clinton will also urge the region's governments, civil society and business community to cooperate more to advance democratic, economic and social reforms, they said.
It is her second trip to the energy-rich Gulf in around a month, following her visit to Bahrain in early December.
A senior State Department official told reporters that Clinton will ask Gulf Arab leaders for insight into events in Iran, which is just across the Gulf, and discuss how to make progress in new multilateral nuclear talks.
Host Turkey said talks involving Iran and the United States, Russia, China, Britain, France and Germany on Tehran's disputed nuclear program will take place in Istanbul on January 21 and 22.
Clinton will also "want to take stock on where we are on the sanctions regime," the official said on the condition of anonymity.
Under US pressure, the UN Security Council last June imposed a fourth round of sanctions against Iran in a bid to halt its uranium enrichment program. Washington sees sanctions as a way to force Iran back to negotiations.
But the official acknowledged that sanctions also "do hit hard" countries like the UAE, Qatar and Oman that enjoy close business links with Iran, suggesting there may not be full cooperation in enforcement.
"And so we appreciate the opportunity to talk frankly about what is working, what is not working, how we can help them better adhere to the UN sanctions," the official said, raising the possibility of technical aid and training.
Iraq and the stalled Palestinian-Israeli peace process will also be on the agenda as Clinton visits Abu Dhabi on Monday, the UAE commercial hub of Dubai on Tuesday, Muscat on Wednesday, and Doha on Wednesday and Thursday.
Like the preceding administration of George W. Bush, US President Barack Obama's team is urging Sunni Arab allies in the Gulf to overcome what it sees as lingering reservations and build closer ties with the new Shiite-led Iraq.
Obama on Tuesday congratulated Iraq after its parliament endorsed a new government led again by Shiite Prime Minister Nuri al-Maliki, saying the move was a "significant" historic moment and represented a rejection of extremism.
Washington sees the new government -- finally formed after elections in March -- as more broadly representing Iraq's people, including the Sunni minority which dominated the country under Saddam Hussein and his predecessors.
"What we're really hoping to do is elicit more expressions of support for the Iraqi government," the senior official said.
"And we're going to urge, I think, countries that have not already opened embassies to open embassies in Baghdad," the official said.
The some 20 countries in the Arab League all have diplomatic relations with Iraq and most have opened embassies in Baghdad, but a number of them have either not staffed them or refrained from sending ambassadors.
The UAE and Bahrain both have full embassies with ambassadors in place.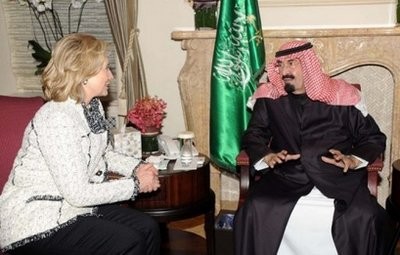 Handout picture released by the Saudi Press Agency (SPA) shows Saudi King Abdullah bin Abdul Aziz during a meeting with US Secretary of State Hillary Clinton on January 7, in New York, where he is recovering from back surgeries.
In Qatar, US officials said, Clinton will also participate in the seventh Forum for the Future, the highlight of a tour organized around Clinton's push for a better partnership between governments, business and civil society.
The forum was set up by the Bush administration so that leaders from the Middle East and North Africa, the Group of Eight leading industrial countries, and delegates from business and civil society could meet to discuss reform.
Another senior US official said that during every stop Clinton will meet civil society activists involved in tackling issues like child marriage or domestic violence as well as promoting business development and education.
At the Doha forum, she will meet with a representative group "to hear about some of the challenges that they face and about what we can do to help them to do their work," the official said on condition of anonymity.