Former president Bill Clinton flew out of North Korea Wednesday with two US journalists sentenced to long jail terms after securing a pardon for them from leader Kim Jong-Il, Clinton's spokesman said.
"President Clinton has safely left North Korea with Laura Ling and Euna Lee. They are en route to Los Angeles where Laura and Euna will be reunited with their families," said spokesman Matt McKenna.
TV journalists Ling, 32, and Lee, 36, were arrested in March while reporting near North Korea's border with China. They were sentenced in June to 12 years of hard labour for illegal entry and "hostile acts."
Relatives expressed joy at the news.
"The families of Laura Ling and Euna Lee are overjoyed by the news of their pardon," they said in a statement thanking Clinton and praising the work of US President Barack Obama's administration.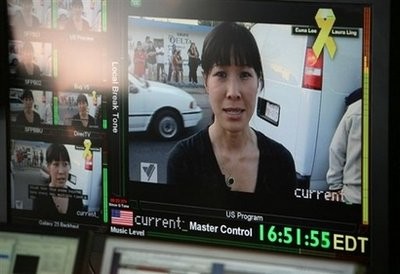 A file video of reporter Laura Ling is seen playing at the Current TV studio August 4 in San Francisco, California
Clinton's trip to the hardline communist state follows months of high tensions over the North's nuclear and missile programmes. It was the highest-profile visit by an American to Pyongyang for nearly a decade.
The North laid on a warm welcome -- an apparent indication it wants better relations with Washington, which is pushing for strict enforcement of UN sanctions aimed at halting the North's atomic and missile activities.
Pyongyang said Clinton at his meeting Tuesday with Kim delivered a special message from Obama. The White House denied this.
Kim agreed to pardon the reporters after Clinton "expressed words of sincere apology" for their "hostile acts", the official Korean Central News Agency (KCNA) reported.
After Kim granted his special pardon, Clinton "courteously conveyed a verbal message of US President Barack Obama expressing profound thanks for this and reflecting views on ways of improving the relations between the two countries," the agency said.
"The measure taken to release the American journalists is a manifestation of the DPRK's (North Korea's) humanitarian and peace-loving policy," KCNA added.
It said the Pyongyang meetings, which included a dinner in honour of Clinton, "reached a consensus of views on seeking a negotiated settlement" of issues dividing the two countries.
The agency said the former president's visit would "contribute to deepening the understanding between the DPRK and the US and building the bilateral confidence."
Clinton sent his own secretary of state Madeleine Albright to Pyongyang in 2000 for a ground-breaking meeting with leader Kim. But he himself called off a planned trip in the final days of his presidency.
The harsh sentences on the reporters had further soured relations already strained by the North's atomic test in May -- its second in three years -- its multiple missile tests and its decision to quit six-nation nuclear disarmament talks.
Cheong Seong-Chang of Seoul's Sejong Institute think-tank said the North was seeking a breakthrough in relations by allowing the former president's visit.
"It will also be used for domestic propaganda as it comes amid growing concerns about Kim's health," Cheong told AFP Tuesday.
US and South Korean officials say the North's recent hardline behaviour is aimed at shoring up the authority of Kim, 67, while he puts in place a succession plan involving his youngest son.
Kim is reported to be in ill health after a stroke last year.
The White House was put in a delicate political spot as it attempted to negotiate the reporters' freedom while also ramping up pressure on the North through tougher sanctions on its weapons activities.
It described Clinton's trip as a "solely private mission."
The Obama administration has been eager to ensure North Korea does not derive any reward for its atomic test and volley of missile launches.
"What we're not going to do is to reward belligerence and provocation in the way that's been done in the past," Obama said in June.
But John Bolton, an outspoken member of the previous administration of George W. Bush, told AFP that Clinton's mission did exactly that.
"It comes perilously close to negotiating with terrorists," Bolton said, when asked about the mission.