Hillary Clinton said in comments published Monday that she may challenge a decision by Democratic Party leaders on convention delegates, threatening to prolong her nomination fight against Barack Obama.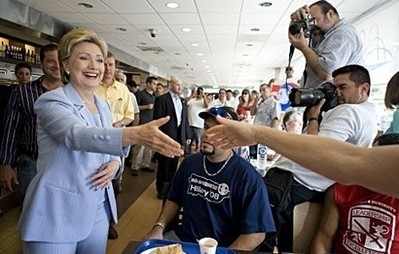 Democratic presidential hopeful Hillary Clinton greets customers at Kasalta Bakery in San Juan, Puerto Rico.(AFP Photo)
The comments to The Washington Post, indicated Clinton is not ready to throw in the towel, even though Obama is widely seen as having gained the upper hand.
"We reserve the right to do it. But I haven't made a decision yet," Clinton told the newspaper.
On Saturday, a Democratic National Committee panel restored the states of Michigan and Florida to its presidential convention, but with only half of their voting power.
Democrats in the two states had been initially denied the right to send convention delegates because they broke party rules by holding their primary votes in January.
Clinton gained a net 24 delegates from Saturday's two-state compromise, which was not nearly enough to secure her nomination.
But even as momentum and the delegate count favored Obama, she vowed in the interview to continue her political fight.
"I am focused on winning the nomination," she said. "So I'm going to stay focused on what is the business at hand, which is making my case to the delegates, and there'll be time, oh, way in the future to consider the campaign, because it's still very much alive and ongoing."
With Democratic voters essentially split and the primary contest approaching its final stage on Tuesday, Clinton made clear she was determined now to focus on influencing superdelegates, the top Democratic Party officials, who in effect will decide the nomination this year.
While the superdelegates have been moving toward Obama in recent weeks, the New York senator made clear she believed the trend can be reversed.
Meanwhile, Democratic National Committee chairman Howard Dean said the time for healing had begun with the weekend's compromise to reinstate Florida and Michigan.
"This is the beginning of the unification of the party, despite what you just saw on television," he said on CNN after clips from Saturday showed screaming Clinton supporters threatening to vote for McCain.
The former Vermont governor added: "We don't want to go to the convention, have a big fight at the convention, and lose the presidency."