PARIS, March 15, 2011 (AFP) - Secretary of State Hillary Clinton on Monday held out the possibility of economic and political aid to the Libyan opposition at a meeting Monday with one of their leaders in Paris, US officials said.
In the highest-level talks she has had with the opposition, she went beyond offering humanitarian aid but stopped short of promising military help for an opposition losing ground rapidly to Moamer Kadhafi's forces.
"They had a private and candid conversation about ways in which the United States can assist the Libyan people in their efforts against the Kadhafi regime," top Clinton aide Philippe Reines told reporters.
The chief US diplomat met with Mahmoud Jibril, who handles foreign affairs for Libya's transitional national council, while in Paris for a Group of Eight meeting.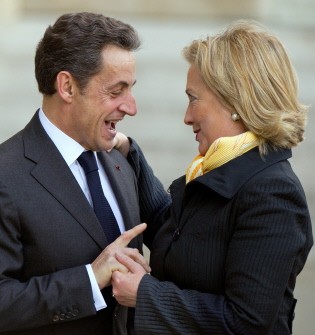 France's president Nicolas Sarkozy welcomes US Secretary of State Hillary Clinton prior to a meeting of Group of Eight powers, on March 14, 2011 at the Elysee Palace in Paris. AFP
But the G8 has shown no sign of agreement on how best to pressure Kadhafi.
France has taken the lead in formally recognising the council as Libya's legitimate representatives.
Both the United States and the European Union have agreed to talk to them without actually recognising them, as they try to get a better understanding of the organization, its makeup and its political goals.
A senior US official told reporters on the condition of anonymity that Clinton had learned more about the council while showing high-level US commitment to helping the opposition.
The official said Jibril had told Clinton his group aimed to include Libyans from both the eastern and western parts of Libya, but to ensure their safety could not name those in the west, where Kadhafi has a stronger power base.
They also reviewed international debate on whether to impose a no-fly zone over Libya to protect the opposition by grounding Kadhafi's air power, said the official -- a topic discussed at the G8 meeting here.
The United States has been wary of supporting a no-fly zone.
Jibril meanwhile asked the chief US diplomat for combat material, the official added: an apparent appeal for weapons to fight Kadhafi's forces, which are regaining lost ground and marching eastward.
Clinton, he said, replied she would consider it, but made no commitments.
The idea, the official said, was that the United States "would provide additional assistance beyond humanitarian support ... but we did not get into specifics about what that aid would be."
The aid could be political or economic or even include "certain forms of equipment," the official said, without elaborating.
Following President Barack Obama's pledge last week to appoint a special envoy to deal with the opposition, the US government has followed through and named an individual as representative to the council, officials said.
But it has declined to disclose his name publicly apparently for security reasons.
"The intention is for him to go to Benghazi," the eastern port city which is the stronghold of the opposition to Kadhafi, another senior administration official told reporters.
Clinton's talks with Jibril marked a step up in contacts.
In Washington last week she met Ali Aujali, the Libyan ambassador to Washington who has defected to the opposition. Aujali has also met both State Department and Treasury Department US officials.
Gene Cretz, the US ambassador to Libya, had recently met opposition figures in Cairo and took part in Monday's talks with Jibril in Paris, officials said.