US Secretary of State Hillary Clinton arrived in the Indian capital hoping to narrow a wide gap with her hosts on fighting climate change ahead of a high-stakes conference later in the year.
On the second leg of her first visit to India since becoming chief US diplomat in January, Clinton will also hold talks with Prime Minister Manmohan Singh and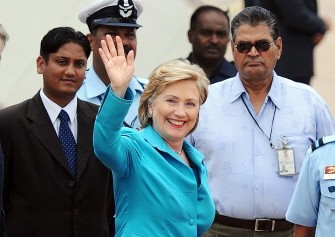 US Secretary of State Hillary Clinton waves as she arrives at an Indian Air Force base in New Delhi on July 19, 2009. (AFP Photo)
Foreign Minister S.M. Krishna on a range of issues from regional security and counter-terrorism, to trade and arms control.
Clinton kicked off her visit in Mumbai on Saturday by calling for a global fight against terrorism after paying tribute to victims of last year's deadly attacks on the Indian financial capital.
With her on the trip is her special climate envoy Todd Stern, who is tasked with bridging substantial divisions between Washington and Delhi on how best to tackle climate change.
Before leaving for India, Clinton said that she and Stern "hope that we can, through dialogue, come up with some win-win approaches".
The Washington administration is also looking towards a December summit in the Danish capital Copenhagen intended to secure a new international agreement on climate change to replace the Kyoto Protocol, which expires in 2012.
India -- like fellow developing heavyweight China -- has refused to commit to carbon emission cuts in the new treaty until developed nations, particularly the United States, present sufficient targets of their own.
New Delhi has consistently said any pact should not hinder the economic growth of developing countries.
The subject was raised at a meeting Clinton had in Mumbai with Indian business leaders, including Mukesh Ambani, chairman of Reliance Industries, which deals in oil and gas exploration among other business.
Ambani argued that India and the United States need to establish "self-sustaining institutions" to produce clean technology, rather than debating who has the right to pollute and how much.
"The time is now, and my perception is, the Indian corporate (world) is ready to do more," he said.
Amrita Patel, head of the National Dairy Development Board, took the United States and the West to task.
"The West, having consumed most of the resources, has to drive it (the climate change fight)," Patel said, echoing official positions. "There is a moral responsibility that the US has."
Clinton said that President Barack Obama's administration has begun to take action on climate change, after his predecessor George W. Bush played down the the problem.
As she did during a visit to China, which has overtaken the United States as the biggest emitter of greenhouse gases, Clinton acknowledged that the United States had "made mistakes" in its own industrial advance.
She has also defended the right of emerging countries to improve their living standards.
But she added: "We also hope that a country like India, which is growing and mobilising so much development, will not make the same mistakes."
Although she did not expect the world to adopt a one-size-fits-all approach to fighting global warming, she said: "There does have to be a framework that India and China in particular sign on to that produces results."
Clinton will Sunday visit the ITC hotel chain's Green Building in Delhi, the first non-commercial complex in India to be awarded a platinum Leadership in Energy and Environmental Design rating, the highest given by the US Green Building Council.
The building is designed to use as much natural light as possible, has windows that allow in light but not heat in order to reduce the need for energy-consuming air conditioners, and has a water recycling plant.
Clinton's talks with the prime minister as well as her counterpart Krishna are scheduled for Monday after which she flies to Thailand.
Indo-US relations were frosty during the Cold War and deteriorated after New Delhi tested an atom bomb in 1998 but thawed after former US president George W. Bush signed a civilian nuclear technology deal with India last year.
Clinton's visit could see an announcement on the two locations India has chosen for US firms to build multi-billion-dollar nuclear power plants, aides said.