US Secretary of State Hillary Clinton on Thursday praised President Ellen Johnson Sirleaf's post-war transformation of Liberia, dismissing a controversy over her alleged links to a warlord.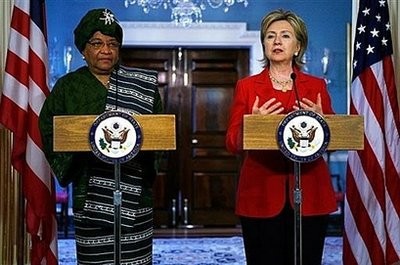 US Secretary of State Hillary Clinton (R) holds a press conference with Liberian President Ellen Johnson Sirleaf in Washington, DC in April 2009. (AFP Photo)
Clinton enjoyed one of the most rousing welcomes she has received so far in her seven-nation Africa tour, with hundreds of people braving pouring rain to cheer her as her motorcade entered the war-battered capital.
Young people danced to drums and female activists held a banner reading, "Hillary Clinton - Woman of Substance" as the top US diplomat drove past.
Clinton offered a ringing endorsement of Sirleaf, describing Africa's first woman president as "a leader whom I admire and someone who has provided great leadership for her country."
She added: "We are supportive and will continue to be so because we think that Liberia is on the right track, as difficult as that path may be."
Both leaders acknowledged the historic links between the two countries -- the nation was founded by freed US slaves in the 19th century -- and Sirleaf thanked Clinton for Washington's support.
"We look forward to continuing to carry out our part of the bargain to move Liberia forward, open society, democracy, accountability, transparency, developing our country through proper use of our natural resources," she said.
Sirleaf has generally enjoyed strong backing overseas.
But earlier this year, Liberia's Truth and Reconciliation Commission recommended she be banned from political activity for 30 years because of her alleged involvement in the civil wars.
The panel investigating Liberia's successive 1989-2003 civil wars included Sirleaf's name in a list of people it accused of being "the financiers and political leaders of the different warring factions".
Sirleaf denied ever being a member of the movement led by rebel leader and warlord Charles Taylor.
She told the truth panel she had met Taylor several times during Liberia's successive conflicts and had also collected funds for him while he was preparing to oust Doe in the 1980s.
Clinton, asked about the commission's recommendation, made it clear that Washington credited Sirleaf with having led Liberia to recovery from the grisly wars that left more than 250,000 people dead from 1989 to 2003.
The United States had "looked at the entire record" of Sirleaf and credited her with starting to revive an economy ravaged by war, he said.
"Today Liberia is a model of successful transition from conflict to post-conflict, from lawlessness to democracy, from despair to hope," Clinton said.
She also hailed Sirleaf for her role as Africa's first democratically elected female head of state, returning to the women's rights theme she has highlighted throughout her 11-day trip.
Clinton later received a thunderous welcome when she addressed the Liberian National Assembly, where she urged lawmakers who had once fought against one another to unite for the sake of the country.
She pointed to her own experience: having run against Barack Obama for the Democratic presidential nomination, "to my amazement" President Obama asked her to be secretary of state, Clinton said.
"One of the most common questions I'm asked around the world -- from Indonesia to Angola -- is how you can work with someone you were running against.
"It is because we both love our country," she said to a standing ovation and a celebratory sounding of the "tugbamo", a horn made of wood.
"I know that the suffering of the Liberian people has been broad and deep but now you have a chance to take a stand against the past and for a future that is worthy of your sacrifice and suffering," she added.
Clinton later dedicated 4.4 million dollars in new equipment to upgrade Monrovia's new airport, part of two billion dollars in US aid to Liberia to bolster the peace process.
Later Thursday, Clinton left Monrovia for Cape Verde, another close ally of the United States.