WELLINGTON, Nov 4 (AFP) – US Secretary of State Hillary Clinton arrived in New Zealand for a three-day visit, part of sweep through the Asia-Pacific marking Washington's resolve to shore up ties with the region.
Clinton, who arrived to overcast skies in the capital, Wellington, will sign an agreement with New Zealand aimed at moving the bilateral relationship beyond a row over nuclear weapons dating back 24 years.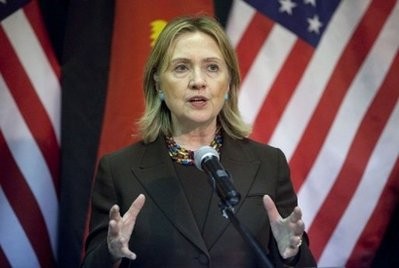 US Secretary of State Hillary Clinton arrived in New Zealand Thursday for a three-day visit. AFP
She will also visit New Zealand's second-largest city, Christchurch, which was hit by a 7.0-magnitude earthquake in early September that caused damage estimated at four billion dollars (3.12 billion US) but claimed no lives.
After a traditional Maori welcome later Thursday, Clinton will meet Prime Minister John Key to initial the "Wellington Declaration," which is expected to include co-operation on climate change and working together in the Pacific.
The declaration is also tipped to cover nuclear non-proliferation, the subject of the diplomatic spat between Wellington and Washington that begin in 1986 when New Zealand banned nuclear warships from its waters.
In response, the United States suspended the three-way ANZUS defence treaty -- which also involved Australia -- and placed strict controls on military cooperation between the countries.
Key said this week that the declaration would not reinstate New Zealand as a full ally of the United States but would show "we've got the next best relationship".
Military co-operation between the countries has increased in recent years and analysts believe Clinton's visit signals a willingness to work around the controls imposed after the ANZUS suspension.
New Zealand and the United States were strong allies during World War II and the State Department said in September that the relationship between the two democracies was "profoundly underperforming".
Clinton has already visited Guam, Vietnam, China, Cambodia, Malaysia and Papua New Guinea on her nine-stop tour, which will next include Australia and American Samoa.
Clinton was originally scheduled to visit New Zealand in January but that trip was postponed following the 7.0-magnitude earthquake in Haiti, which killed around 170,000 people and left more than one million homeless.
Although the Christchurch quake was of similar size there was no loss of life, which has been attributed to New Zealand's strict building standards in an earthquake-prone area.