US Secretary of State Hillary Clinton pressed her "aggressive" Middle East diplomacy on Tuesday, saying she was sending two envoys to Syria and vowing to work towards a Palestinian state.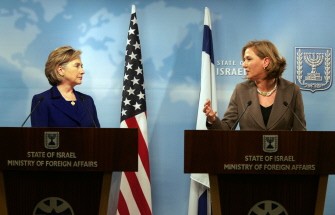 Israeli Foreign Minister Tzipi Livni (R) and US Secretary of State Hillary Clinton join the press conference after their meeting in Jerusalem on March 03, 2009
On her first visit to the region since her appointment by US President Barack Obama, Clinton said she would pursue a comprehensive peace plan while stressing that Israel could count on continued support from its staunchest ally.
She announced she was sending two members of her delegation -- Jeffrey Feltman and Daniel Shapiro -- to Syria, a longtime foe of the Jewish state with whom US relations have been strained for years.
"There are a number of issues we have between Syria and the United States as well as the larger regional concerns that Syria obviously poses," she said after talks with outgoing Israeli Foreign Minister Tzipi Livni.
"The United States and Syria have differences of views on many important topics, and this is an opportunity for us to exchange views on bilateral issues and regional concerns," a State Department official said.
Another US official said the envoys would visit Syria at the end of the week. It would be the highest level contact since January 2005.
Outgoing Israeli Prime Minister Ehud Olmert said he would update Clinton about Israeli-Syrian peace negotiations through Turkish mediation.
"Together we will discuss ways in which we can extricate as many countries in the region from extremism in order to weaken the strength and influence of those countries which support terror and of terrorist organisations in the region," Olmert said.
Clinton stressed "not only my personal commitment but also that of my country to the fundamental and unshakeable bond that binds us to Israel's security and our enduring bonds of friendship."
But she also underscored the US commitment to the creation of a viable Palestinian state living peacefully alongside Israel.
"It is our assessment ... that eventually, the inevitability of working toward a two-state solution is inescapable."
"The first step right now ... is a durable ceasefire," Clinton said. "But that can only be achieved if Hamas ceases the rocket attacks."
Hamas, the Islamist rulers of Gaza, lashed out at the comments.
"The government considers the statements from Hillary Clinton to be the height of bias towards the Israeli occupation," Hamas government spokesman Taher al-Nunu said in a statement.
Clinton also held talks with Israel's premier-designate Benjamin Netanyahu, who is working to create a new government likely to be a right-wing coalition opposed to establishing a Palestinian state.
The hawkish Likud leader said he and Clinton "agreed to meet again after a government is formed and to work in tight cooperation in order to bring security, peace and prosperity to the region."
Gaza militants have been firing rockets at Israel, which responded with air strikes despite Egyptian efforts to forge a long-term ceasefire following the January 18 end of Israel's war on the Hamas-run territory that killed more than 1,300 Palestinians and 13 Israelis.
As premier in 1996, Netanyahu put the brakes on the Oslo peace process. He has said he will now focus on building up the Palestinian economy instead of immediately pushing for a final settlement.
The peace talks were revived in Annapolis in November 2007 but made little progress and were frozen when the Gaza war broke out.
Obama has nevertheless vowed to actively pursue the peace process and has appointed a special envoy, veteran diplomat George Mitchell, to coax both sides back to the negotiating table.
Israeli leaders have repeatedly pointed to the threat of a nuclear Iran as their main concern.
"It is not an Israeli problem, it is a world problem," President Shimon Peres said after talks with Clinton.
Clinton said there was a shared understanding about the threat.
"When we talk about engagement with Iran do not be in any way confused. Our goal remains the same... to dissuade and prevent Iran from acquiring nuclear weapons and funding terror," she said.
On Wednesday, Clinton was to hold talks with Palestinian president Mahmud Abbas and prime minister Salam Fayyad in the West Bank political capital of Ramallah.
Clinton arrived in Israel from Egypt, where she outlined her Middle East strategy at a conference on the post-war reconstruction of Gaza, for which international donors pledged 4.5 billion dollars.