SYDNEY, Nov 21, 2011 (AFP) - Australian airline Qantas on Monday said it was hopeful of reaching a compromise before midnight in fraught contract talks with staff unions that triggered the shock grounding of its global fleet.
Qantas and unions representing pilots, engineers and ground staff were given 21 days to resolve the dispute by the national workplace relations tribunal as part of orders banning all industrial action at the airline.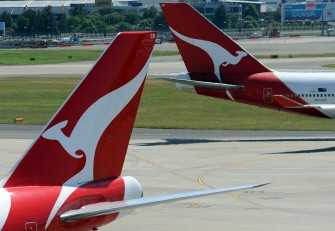 AFP file - Two Qantas Boeing 747s cross paths at Sydney International Airport on November 15, 2011.
The deadline expires at midnight Monday (1300 GMT) and if talks are not extended by mutual agreement and they remain at an impasse, all parties will be forced into arbitration.
Tony Sheldon, from the Transport Workers' Union (TWU), said little progress had been made in the three weeks since Fair Work Australia (FWA) ordered Qantas to lift the grounding of its fleet and told unions to stop striking.
Sheldon said the latest offer made by Qantas was less than what had been on the table before the FWA hearing and accused the carrier of trying to force the matter to arbitration -- under which the tribunal would make a binding ruling.
"The company has been extremely frustrating through the last seven months and even more frustrating in the last three weeks," Sheldon said.
But Qantas said Sheldon was "scaremongering" and insisted that it had been negotiating in good faith throughout the weekend hoping to reach a last-minute deal.
"Qantas has been very much committed to those negotiations and we remain hopeful that we can get a settlement today," Qantas spokeswoman Olivia Wirth told ABC Radio.
"The day can finish at midnight. We are very much committed to those negotiations and we'll see how the day transpires."
Canberra asked the FWA to intervene in the dispute after the grounding threatened to rock the economy, especially tourism, which is struggling because of the high Australian dollar and a series of natural disasters.
Unions are angry about Qantas's plans to restructure its international business in Asia and want guarantees on wages, conditions and job security -- demands the airline says are impossible to meet.
Transport Minister Anthony Albanese urged both parties to "act like adults" and get their problems resolved, saying the areas of difference had "narrowed considerably" and there was no reason why an agreement couldn't be reached.
"Part of the problem here is just a lack of good will, lack of respect from both sides to the dispute," Albanese told Sky News.
Workplace Relations Minister Chris Evans warned that arbitration should be a last resort, saying "both sides have reason to be concerned that arbitration may give them a result they don't particularly want."
Wirth said there had been "concessions made by both sides" but she would not comment on Sheldon's claims that Qantas preferred arbitration.
"Arbitration is obviously one vehicle available to both parties at the negotiating table," she said.
"Qantas does believe that any decision made by the arbitrators is binding. That is the umpire's decision. We will stand by that and we would expect the unions to also agree to that."
The TWU has requested another 21 days to see if an agreement can be reached. Wirth said a decision would be made later Monday by the negotiating team on whether to extend the talks.