Leftist FARC rebels on Tuesday released one of their longest held captives, a soldier kidnapped 12 years ago, the Red Cross said after receiving the hostage in the Colombian jungle.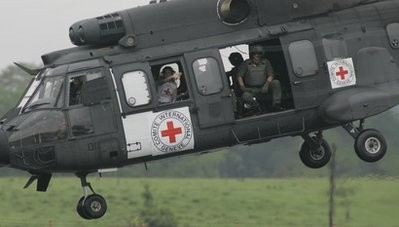 A delegate of the International Red Cross waves from a Brazilian military helicopter taking of from an airport in Florencia, Colombia, to pick up rebel hostage Pablo Moncayo, Tuesday, March 30, 2010.
It was a "successful operation," a spokesman for the International Committee of the Red Cross said after sergeant Pablo Emilio Moncayo was turned over by rebels at a jungle clearing and flown by helicopter to his awaiting family in Florencia.
"You don't know how wonderful it is to see civilization once again," Moncayo said after getting off the helicopter and hugging his father in this city 580 kilometers (360 miles) south of Bogota.
Moncayo, 32, was the second soldier the Revolutionary Armed Forces of Colombia promised to release some time ago in negotiations with Senator Piedad Cordoba, who was also present at the release site.
Corporal Daniel Calvo, 22, was released on Sunday after almost one year in captivity.
Moncayo's release was attributed in part to tireless campaigning by his father, a 58-year-old university professor who for years traveled across Colombia, his neck and arms in chains, to draw attention to his son's plight.
Gustavo Moncayo, who became known as the "Peace Walker," also took his cause to neighboring Venezuela and Ecuador, as well as France, Spain, Germany, and even the Vatican, where he met the pope in 2007.
Upon release the former hostage thanked God "and my father for his titanic, tireless job" in highlighting the plight of the hostages. Moncayo then turned to his father and removed the chains that he had been carrying for years.
President Alvaro Uribe celebrated the release.
"We welcome back sergeant Moncayo. We are so happy for his family. Colombia receives with open arms all those who return from captivity and strongly condemns their kidnappers," Uribe told university students in Cucuta, on the border with Venezuela.
FARC recently ruled out any further hostage releases until the conservative Uribe administration reciprocates by releasing some of the 500 FARC rebels in federal prisons. Uribe has steadfastly refused to give in to a prisoner swap with the rebels.
FARC is believed to be holding 21 soldiers and police hostage, apart from scores of civilian hostages.
Moncayo was kidnapped on December 21, 1997, when he was a 19-year-old army corporal. He was promoted to sergeant while in captivity.
He was one of the longest held FARC hostages, along with fellow soldier Libio Jose Martinez, who was kidnapped on the same day, one year after he fathered his first child.