KABUL, Sept 9, 2009 (AFP) - A New York Times journalist held by the Taliban in Afghanistan was freed Wednesday during a dramatic airborne raid by foreign commandos in which his Afghan colleague was shot dead, the newspaper said.
Gunmen snatched Stephen Farrell, who has dual British-Irish nationality, and Sultan Munadi, on Saturday while they were reporting on the aftermath of a NATO air strike on fuel tankers that killed scores of people.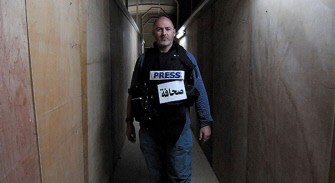 This New York Times file photo released on September 9, 2009 by the New York Times shows New York Times reporter Stephen Farrell in Iraq in the year 2007
Farrell and Munadi were the second team from The New York Times to be kidnapped in Afghanistan in less than a year. Their abduction highlights the growing insecurity in the once relatively peaceful north of the country.
The NATO-led International Security Assistance Force (ISAF), which has around 64,500 troops from more than 40 nations fighting against a Taliban-led insurgency in Afghanistan, confirmed the operation.
"Early this morning, joint forces from ISAF and Afghanistan entered a series of compounds in Kunduz and rescued the New York Times journalist Stephen Farrell," an ISAF spokesman told AFP.
Farrell was unhurt but his interpreter -- a 34-year-old father of two who was working in Afghanistan on a break from university studies in Germany -- was killed in a hail of gunfire, the newspaper reported.
In a brief telephone call Farrell, 46, told The New York Times foreign editor: "I'm out! I'm free!" the newspaper reported.
"Farrell told her that he had been 'extracted' by a commando raid carried out by 'a lot of soldiers' in a fierce firefight with his captors. Mr. Farrell said he had also called his wife," the newspaper added.
Until now, the kidnapping had been kept quiet by the newspaper and most major news organisations out of concern for the men's safety.
In a second phone call to a New York Times reporter in Kabul, Farrell said he and his captors heard helicopters approach before the dramatic rescue.
"We were all in a room, the Talibs all ran, it was obviously a raid," Farrell said. "We thought they would kill us. We thought should we go out."
Farrell said as he and Munadi ran outside, he heard voices. "There were bullets all around us. I could hear British and Afghan voices."
The Afghan governor in Kunduz, Mohammad Omar, said initially that it was a US military operation and that Munadi was killed by the Taliban during the raid, but Farrell told the paper he did not know who fired the fatal bullets.
Munadi advanced shouting "journalist! journalist!" but dropped dead in a hail of bullets just in front of his British-Irish colleague.
After a minute or two, Farrell said he heard more British voices and shouted, "British hostage!" The British voices told him to come over.
Farrell's release comes 11 weeks after New York Times journalist David Rohde and a local reporter escaped following seven months in captivity after being abducted outside Kabul with their driver, according to the newspaper.
"We're overjoyed that Steve is free, but deeply saddened that his freedom came at such a cost," said Bill Keller, the executive editor of The Times.
"We are doing all we can to learn the details of what happened. Our hearts go out to Sultan's family," he added.
Farrell is an experienced and well-respected reporter who has worked for the New York Times since July 2007, largely in Iraq, and was formerly Middle East correspondent for Britain's The Times newspaper.