Comoros President Ahmed Abdallah Sambi declared a 30-day period of national mourning for the victims of a Yemeni Airbus that crashed off the Indian Ocean island's coast with 153 people on board.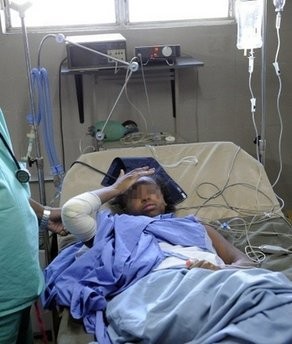 Bahia Bakari, 12, recovers at Moroni hospital after she miraculously survived the Yemenia airliner crash off the Comoros, being ejected from the plane into pitch-black Indian Ocean waters. (AFP Photo)
"From today, our country is in a period of mourning for 30 days," he announced on state television late Thursday.
Sambi, who shortened his trip to the African Union summit in Libya, urged former colonial power France to help in establishing the cause of the Yemenia flight that went down as it attempted to land in the capital Moroni Tuesday.
Only one passenger -- a 12-year-old girl -- of the 142 and 11 crew survived the disaster. Sixty-six French nationals were also aboard the craft.
On Thursday, Sambi said rescuers had yet to recover any bodies from the site of the Yemenia plane crash and appealed for more international help.
Yemenia airlines has since come under under attack from angry relatives who suspect the plane was not safe.
The 19-year-old jet had been banned from French airspace because of safety doubts.
But Yemen's transport minister rejected such criticism as unfair as no probe into the cause of the crash has been published.