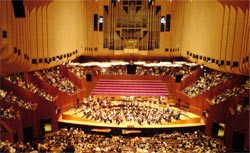 "Mozart's Masterpieces" Performance in Concert Hall, photo : Khuong An
A concert which was named as "Mozart's Masterpieces", took place in Sydney Opera House, Australia on 1-4 March, 2006.
The concert  was to celebrate the late musical master's 250th birthday. It was staged in three parts, Mozart Symphony No 40 K 550, Mozart Concerto for Two Pianos K 365, and Ravel Daphnis et Chlóe-Suit No 2,  and was conducted by Gianluigi Gelmetti and two virtuoso Italian pianists Michele Campanella and Monica Leone.
More than 3000 classical music fans came to the Concert Hall to enjoy the performances. Most of them were charmed with his passionate and famous works.
"Mozart is really a great composer. I am entirely attracted by his works, specially the last part". commented Manual Junkel, a German student who is studying Engineering at UNSW (University of New South Wales, Australia). With the greatest number of artists performing, the last part was indeed the highlight of the concert night.