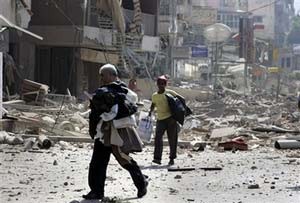 UN hopes to raise more US$500 million for reconstructing Lebanon (AFP Photo)
Officials from more than 40 countries meet in Stockholm Thursday to raise US$500 million (392 million euros) for Lebanon's acute humanitarian and reconstruction needs following the devastating Israeli offensive.
UN humanitarian chief Jan Egeland was expected to appeal for more money for mine clearance after accusing Israel on Wednesday of a conducting a "completely immoral" cluster bomb blitz just before the ceasefire went into effect that has left as many as 100,000 unexploded bomblets in south Lebanon.
"This conference is about temporary, acute reconstruction so people can start to live their lives during the reconstruction," Swedish Aid Minister Carin Jaemtin, who will co-host the conference with Foreign Minister Jan Eliasson, told AFP ahead of the meeting.
The first donors' conference to be held since the conflict broke out seeks to address the immediate needs for the Lebanese people including "access to medical care, key roads and bridges, markets, and removal of unexploded ordnance," said Kathleen Cravero of the UN Development Program.
Repairing schools and repairing water and electricity supplies systems are also priorities.
"We expect to raise enough money to meet those needs," Jaemtin said.
External Relations Commissioner Benita Ferrero-Waldner was expected to announce an additional 42 million euros (54 million dollars), taking the European Union's aid to 100 million.
The Netherlands said Wednesday it would contribute another six million euros in addition to the 4.8 million it pledged earlier.
Four million euros of the new money will go to help the UN clear unexploded munitions, which since the end of the fighting have killed 13 people and injured 46.
Lebanon has estimated damage inflicted by the offensive at 3.6 billion dollars, with 130,000 homes, 80 bridges and 94 roads destroyed or damaged.
Lebanon has already received emergency aid of US$500 million from Saudi Arabia and US$800 million from Kuwait.
Lebanese Prime Minister Fuad Siniora was also due to attend the conference, where in addition to monetary pledges he was expected to seek donations of mobile homes to temporarily house the tens of thousands who lost their homes.
Ministers from numerous EU countries, as well as representatives of South Korea, Japan, Brazil and Morocco were set to participate in the conference.
Senior officials from the United States and the United Nations, the World Bank, International Monetary Fund, Red Cross and World Health Organization were also expected.
The 34-day conflict was sparked after a raid by the Shiite militia Hezbollah on a border post in which two Israeli soldiers were kidnapped and eight others killed.
Another donors' conference on the long-term reconstruction of Lebanon is scheduled to take place in Beirut at the end of the year.
Source: AFP