Japan's ruling party on Monday picked brash conservative Taro Aso to be prime minister as it gears up for early elections, tasking him with steering Asia's largest economy away from recession.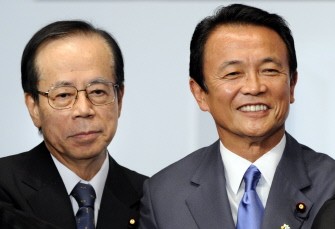 Taro Aso (R), newly named the leader of Japan's ruling Liberal Democratic Party (LDP), and outgoing Prime Minister Yasuo Fukuda (L) attend the LDP's leadership election in Tokyo on September 22, 2008. (AFP Photo)
The 68-year-old former foreign minister easily won the party's leadership election, paving the way for him to succeed Prime Minister Yasuo Fukuda, who stepped down three weeks ago amid plunging approval ratings.
"We are now standing at the starting line faced with new difficulties," an unusually solemn Aso said after winning the vote.
"It is my duty to meet people's expectations."
The flamboyant but gaffe-prone politician -- who favours public spending to revive the economy -- won his fourth race for the Liberal Democratic Party's top job by defeating four other candidates.
Aso saluted his rivals as he was proclaimed the winner at LDP headquarters, where the walls are filled with giant portraits of other leaders from a party that has ruled Japan almost continuously since 1955.
He should be formally endorsed by parliament Wednesday.
"From this moment on, there is no conflict among the five candidates who ran in the election," said Aso, who has charmed the public with his unabashed love of comic books.
He received 351 out of the 527 votes, party election chief Hideo Usui said. Kaoru Yosano, the minister for economic and fiscal policy and a critic of Aso's economic policies, trailed in second with 66 votes.
Yosano said the climate in Japan, whose economy contracted last quarter, was "overwhelmingly advantageous" to Aso.
The other candidates included former defence minister Yuriko Koike, who was seeking to become Japan's first female premier. She was third on 46 votes.
Aso enjoyed strong support in struggling rural areas as he has promised to use public money to stimulate the economy, a break from a long push in the LDP for free-market reform, although rivals accused him of putting Japan's ailing finances further at risk.
He is thought likely to take advantage of the moment and call snap general elections -- possibly for as early as late October -- in the hope of thwarting an increasingly popular opposition.
Senior opposition leader Naoto Kan immediately went on the offensive, saying Aso spoke only about himself and the LDP in his first remarks.
"I'm worried about having him lead Japan," Kan said on television.
"We've said that we need to hold real discussions on emergency measures to handle Lehman Brothers and oil prices," Kan said, referring to the collapse of the US investment giant that has rocked global markets.
Some pundits doubt the LDP leadership race did much to incite enthusiasm among the general public, as some ruling party lawmakers argued.
"The LDP set fire to its own house and invited people to watch," said Jiro Yamaguchi, a politics professor at Hokkaido University, referring to Fukuda's sudden resignation.
"It has left the impression among people that they are leaving important issues unattended while jostling for power," Yamaguchi said.
At its own convention Sunday, the main opposition Democratic Party of Japan gave another two-year term to its leader Ichiro Ozawa, 66, a veteran political tactician who said upcoming elections were a "last chance" for change.
Last year, the LDP lost control of the upper house of parliament for the first time, and the Fukuda government's approval rating as of Friday was just 15.6 percent.
His popularity plunged after he raised medical costs for the elderly, whose growing number is badly straining public finances.
The opposition has promised to scrap the medical plan and Health Minister Yoichi Masuzoe hinted recently that Aso would do so as well.
News reports said Aso would likely give posts to his defeated rivals in a bid to ensure party unity, including retaining Yosano as fiscal and economic policy minister.