PHNOM PENH, April 1, 2010 (AFP) - Chinese companies have begun building two large hydropower dams at a combined cost of more than one billion dollars to feed electricity-starved Cambodia, officials in Phnom Penh said Thursday.
A ceremony was held Thursday in the Cambodian capital to mark the start of construction of a 338-megawatt hydroelectric dam at Stung Russey Chrum Krom in the southwestern province of Koh Kong.
China Huadian Corporation will invest some 495.7 million dollars to build the dam, Cambodian government officials said during the ceremony.
A separate ceremony was held on Monday for China National Heavy Machinery Corporation to start breaking ground for another 246-megawatts dam in Koh Kong province, with an investment of 540 million dollars, officials said.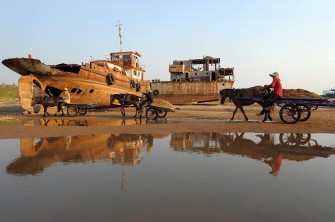 This picture taken on March 25, 2010 shows Cambodian workers shoveling sand into a horse cart along the Mekong river in Kandal province, north of Phnom Penh. AFP photo
Energy minister Suy Sem said during the Thursday ceremony that the dams, expected to be completed in 2014, will better "the livelihoods of Cambodian people".
Only 20 percent of Cambodian households currently have access to electricity, however environmentalists have expressed concern over plans to build hydropower projects of various sizes to meet the country's needs.
Ten dams are set to begin churning between 2010 and 2019, and once they are all operational the government says they will generate 2,045 megawatts of power, serving all Cambodia's provinces.
Spiralling utility prices, driven by the lack of supply, are a major obstacle for Cambodia to attract foreign investment, and the government has struggled to find a way to bring down the cost of power.
Government officials say six of the dams will be funded by Chinese companies. The US-based International Rivers Network has warned that these investments could threaten some of Cambodia's most precious eco-systems.
China's own massive dam projects have long been a source of controversy.
Although no dams are planned on the Mekong river in Cambodia, China has been criticised for the impact of its hydroelectric projects under construction on the upper reaches of the regional waterway, now at a record low.