Efforts to craft a comprehensive climate treaty in Copenhagen next month will certainly "yield a success," the UN's top climate official pledged on Thursday.
"There is no doubt in my mind whatsoever that it will yield a success," said Yvo de Boer, executive director of the UN Framework Convention on Climate Change (UNFCCC).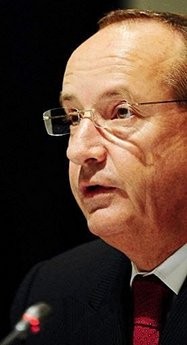 UN Climate chief Yvo de Boer attends a press conference on November 2.
"I've seen some recent reports that said that Copenhagen has failed even before it starts and I must say that those reports are simply wrong," he insisted ahead of the December 7-18 meeting in the Danish capital of negotiators from 192 countries.
"Almost every day now we see new commitments and pledges from both industrialized and developing countries," de Boer said, citing announcements from Brazil and South Korea on national plans to reduce emissions "in a very, very significant way."
Japan has also tabled a "very generous offer of upfront financing to help developing countries on mitigation and adaptation" to climate change, he said.
"The political leadership that so many leaders promised at the UN climate change summit in September is alive, it is well and it will lead to success in Copenhagen," de Boer added.
US President Barack Obama, he said, has demonstrated "incredible courage and leadership" and wants a "strong" policy agreement on the issue.
"I am confident that the president of the United States can come to Copenhagen with targets and a financial commitment," he said.
The UN climate chief framed the summit positively following the meeting of 44 environment ministers from key countries in Copenhagen that aimed at laying the groundwork for a political agreement at next month's conference.
Danish Environment Minister Connie Hedegaard described the preparatory talks as "very constructive."
Obama earlier this week, meanwhile, said China and the United States wanted the Copenhagen summit to culminate in a global accord that had "immediate operational effect."
We "agreed to work toward a successful outcome in Copenhagen," Obama told journalists after talks with Chinese President Hu Jintao in Beijing.
China and the United States together account for 37.5 percent of global emissions of the six main greenhouse gases, according to the World Resources Institute (WRI).
Their positions are seen as key to the outcome of the Copenhagen conference, a two-year process that aims at building a post-2012 planet-wide treaty on tackling climate change to replace Kyoto, which remains the only international agreement limiting the output of CO2 and other heat-trapping gases.
Late last month, de Boer signalled caution ahead of the summit, saying it is "physically impossible under any scenario to complete every detail of a treaty in Copenhagen."
Developing nations have called for wealthy economies to cut their emissions by at least 40 percent by 2020 compared with 1990 levels, and to provide around one percent of their gross domestic product (GDP) per year, or around 400 billion dollars, in finance.
So far, no rich country has come anywhere close to meeting such a demand.
De Boer has also recalled, however, that it took eight years to negotiate, sign and ratify Kyoto.