Preliminary counting was underway Sunday in presidential and legislative elections in Iraqi Kurdistan, with the region locked in disputes with Baghdad over land and oil.
Nearly 80 percent of the region's voters turned out in what election officials trumpeted as a transparent poll, with official counting due to take place in the Iraqi capital and full results not expected for days.
"The elections were a great success and were conducted transparently without any major problems," the president of the Kurdish electoral commission Faraj al-Haidari told an Arbil news conference late Saturday evening.
While Kurdistan's dominant players -- regional president Massud Barzani, his Kurdistan Democratic Party (KDP) and the rival Patriotic Union of Kurdistan (PUK) of Iraqi President Jalal Talabani -- are expected to retain power, the entrance into the fray of a new opposition party added interest to the contest.
An enthusiastic cross-section of voters appeared to be backing Nusherwan Mustafa, a wealthy entrepreneur and former PUK deputy leader who is bidding to break the PUK-KDP duopoly, as are a raft of small parties.
Before the close of voting, a list comprised of four communist and Islamist parties complained of "fraud" and accused the PUK and KDP of bussing unregistered voters to polling stations to cast ballots.
Those claims were dismissed by Hamdia al-Husseini, head of the electoral department at Iraq's electoral commission, who said: "The election was transparent."
She said that overall turnout was 78.5 percent, citing preliminary figures.
Kurds exhibited increasing concern over corruption through the course of the campaign, with many voicing support for change after decades of PUK and KDP dominance.
"This time, we will turn parliament upside down," 36-year-old Daana Mohammed, a Mustafa supporter, in Kurdistan's second-biggest city of Sulaimaniyah told AFP.
"Eighteen years of this controlling regime, which does not care about the will of the people, will be finished," he added, referring to the stranglehold the KDP and PUK have had over Kurdistan since the region first received some level of autonomy after the 1991 Gulf War.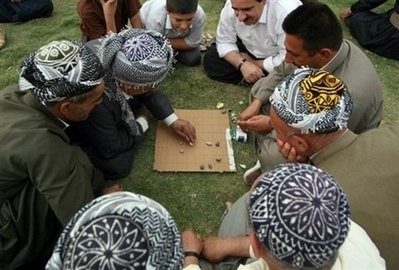 Iraqi Kurdish men enjoy a board game after voting in the presidential and parliamentary elections in the northern city of Arbil
But Shilan Othman, 36, said she would cast her ballot for the joint PUK-KDP list, saying its "victory is as clear as the light of the sun in a blue sky."
Security was tight at polling stations across Kurdistan, despite the relative safety of the region compared to the rest of Iraq.
Iraqi Prime Minister Nuri al-Maliki described the votes as "another step in building a democratic Iraq" and added that the elections "provide an opportunity to resolve all problems."
"We hope that these elections will be a first step to solving issues with Baghdad," Barzani told reporters after voting.
"I will work to get back the disputed areas."
In the run-up to the vote tensions heightened between Barzani and the central government over Kurdish claims to 16 disputed areas along Kurdistan's border with the rest of Iraq.
Barzani insisted during campaigning he will not "compromise" on the Kurds' longstanding claims to the disputed oil-rich city of Kirkuk.
Kurdish peshmerga rebels who had fought the regime of ousted dictator Saddam Hussein are now deployed alongside Iraqi army soldiers, triggering a tense face-off that has raised the prospect of armed conflict.
Disagreements over oil rights have hamstrung exploitation of much of Iraq's massive proven reserves and long-delayed hydrocarbons law, prompting fierce Kurdish criticism.
On June 1, the Kurdish administration began exporting oil for the first time, but Baghdad is contesting the region's right to sign contracts without central government approval.
In Washington on Thursday, Maliki acknowledged that these disputes are among "the most dangerous issues" facing his government, but said he expects to resolve the standoff.
Saturday's vote was held six months after provincial elections took place in the rest of Iraq, except for Kirkuk, where a date for polls has yet to be set.