A Seoul court this morning began the official hearing on the close friend of President Park Geun-hye over an influence-peddling scandal that has led to the chief executive's impeachment, according to the Yonhap.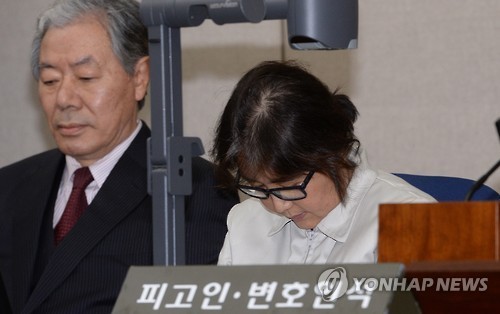 Dressed in a prison uniform, Choi Soon-sil, a close confidante of President Park Geun-hye, lowers her head while sitting in the dock during the first preparatory hearing at the Seoul Central District Court in southern Seoul on Dec. 19, 2016. She is at the center of the influence-peddling scandal that has led to Park's impeachment. On the left is her lawyer, Lee Kyung-jae. (Press corps-Yonhap)
Choi Soon-sil, 60, appeared before the Seoul Central District Court as a defendant on charges of abuse of power and attempted fraud in the first official hearing held after two rounds of preparatory sessions last month.
President Park's former aides An Chong-bum and Jeong Ho-seong also attended the hearing on charges of collaborating with Choi, in the first public appearance since they were put into detention last year.
Park was impeached by the National Assembly on Dec. 9 over her alleged involvement in a string of suspected crimes committed by her friend of more than 40 years.
On the same day, the Constitutional Court held the second hearing on Park's impeachment, though she did not attend the trial. The law does not require her attendance and her lawyers have said she is unlikely to appear for future proceedings.
Park has denied all of the allegations against her, saying she only received simple advice from Choi and carried out her presidential duties faithfully.