A Seoul court on Friday slapped Rep. Choo Mi-ae, the leader of the main opposition Democratic Party, with a fine of 800,000 won (US$665) for illegal electioneering, but allowed her to retain her parliamentary seat, source from the Yonhap.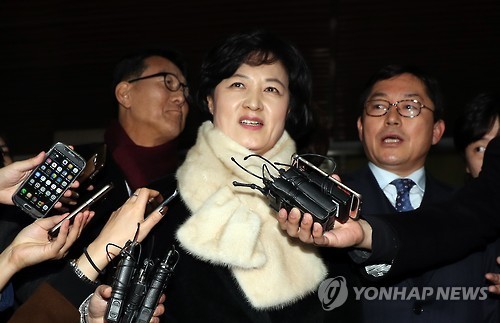 Choo Mi-ae, the leader of the main opposition Democratic Party, speaks during a meeting with reporters at the Seoul Eastern District Court in Seoul on Dec. 23, 2016. (Yonhap)
The Seoul Eastern District Court found Choo guilty of spreading false information during her parliamentary election campaign earlier this year. But it said her legal offense was not serious enough to strip her of her status as a lawmaker.
When sentenced to a fine of 1 million won or more, a lawmaker loses his or her seat in the 300-member National Assembly.
During a press conference in March, Choo claimed that the decision to retain the district court in Gwangjin-gu, her constituency in eastern Seoul, was made because of her request to Son Ji-yol, the then chief of the National Court Administration, before a 2004 parliamentary election.
Choo also said that after her loss in the 2004 election, she failed to block the relocation of the court to Songpa-gu in southeastern Seoul.
But Son has denied that he had pledged to hold onto the court in Choo's constituency. Based on this, prosecutors pressed charges of illegal electioneering earlier this month, demanding that the court sentence her to a fine of 3 million won.
Choo has claimed that the prosecutors' accusations against her were wrong and politically motivated.