The Constitutional Court was shrouded in secrecy Thursday as justices made final preparations to deliver their ruling on whether to oust or reinstate President Park Geun-hye, with it exactly one day away, source from Yonhap.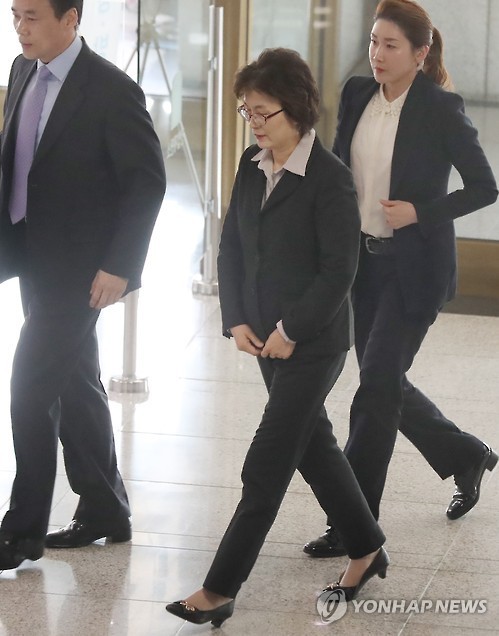 Lee Jung-mi (C), acting chief of the Constitutional Court, arrives at the court in Seoul on March 9, 2017, one day before the court will announce its ruling on the impeachment of President Park Geun-hye. The announcement will be made at 11:00 a.m. on March 10 and be broadcast live from the main courtroom. (Yonhap)
Park was impeached by parliament in December for allegedly letting her close friend Choi Soon-sil meddle in state affairs and colluding with her to extort millions of dollars from local conglomerates, including Samsung Group.
The verdict on her impeachment will be delivered by the court's acting chief Lee Jung-mi at 11 a.m. Friday. Park is not expected to attend the hearing, which will be televised live from the main courtroom.
If the court upholds the impeachment, Park will be permanently removed from office, and South Korea is required to hold a presidential election within 60 days. Local pundits predict the election will fall on May 9.
She would also become the first South Korean president to be ousted by impeachment.
If the court rejects her impeachment, Park will be immediately reinstated to serve out her term through February and the election will be held in December as scheduled.
There are eight justices currently deliberating on the president's impeachment after Chief Justice Park Han-chul retired in January upon completing his term. Park's ouster requires the approval of at least six of them.
The eight justices have held deliberations almost every day since the final hearing on Feb. 27 to gather their opinions and write draft rulings both for and against the impeachment.
It is unknown whether the justices have already reached their verdict, but they are expected to meet again later in the day to make final adjustments to the rulings.
Then, they will meet one last time Friday morning to cast their votes before Lee reads out the verdict, according to sources with knowledge of the proceedings.