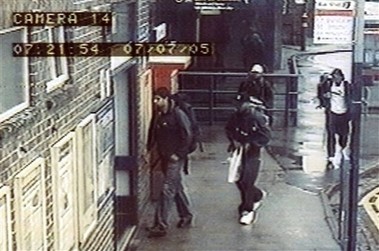 In this CCTV image made available by the Metropolitan Police, the four London bombers are seen arriving at Luton railway station at 0721 local time on in the Thursday July 7 , 2005 file photo.
A British court jailed four Islamists for life Wednesday over failed attacks on London's public transport system in July 2005, two weeks after suicide bombings which killed 52 innocent people.
The presiding judge, ordering them to serve at least 40 years behind bars, said he believed that both attacks -- on July 7 and July 21 -- were inspired by the Al-Qaeda terror network.
The four -- ringleader Muktar Said Ibrahim, as well as Yassin Omar, Ramzi Mohammed, and Hussain Osman -- were found guilty of a failed bid to set off four bombs on underground trains and a bus -- the same scenario as on July 7.
The sentencing came shortly after prosecutors confirmed that two other defendants in the case will face a re-trial, after jurors failed to agree a verdict on Tuesday.
Ibrahim, 29, admitted in court that he was the ringleader but said he used a harmless device intended only to protest against Muslim suffering, especially in Iraq. The other convicts also claimed the devices were harmless.
"They knew what would happen. They had seen the death and destruction of 7/7 and the fact that they continued with their plan showed their brutal intent."
Meanwhile authorities werre investigating why Ibrahim was able to travel to Pakistan for terrorist training barely six months before the 2005 attacks, despite being known to police.
Ibrahim travelled to Pakistan in December 2004, and was there at the same time as Mohammed Siddique Khan and Shehzad Tanweer, two of the four suicide bombers in the July 7 attacks.
"I'm looking very carefully at the circumstances that surround his visit to Pakistan," said Prime Minister Gordon Brown.