First Lady Cristina Kirchner will switch positions with her husband on Monday, when she is inaugurated as president of Argentina.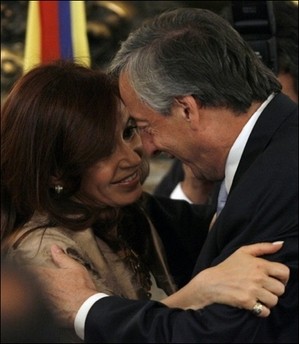 Argentine President Nestor Kirchner (R) hugs his wife president-elect Cristina Kirchner at the presidential palace in Buenos Aires, December 9, 2007 (Photo: AFP)
Often compared with New York senator and presidential hopeful Hillary Clinton, the glamorous 54-year-old Kirchner is the first woman ever elected to lead Argentina.

She garnered 45 percent of the ballots -- almost twice as many as her closest rival -- in the October presidential election.

Her husband Nestor Kirchner has not explained why he stepped aside for his wife after his first four-year term as president, but aides insist his wife will not share her office with him.

Cristina Kirchner says she will, however, maintain the economic policies of her husband's government, which helped Argentina recover from a profound economic, social and institutional crisis that plunged millions of people into poverty.

Most of the cabinet ministers will retain their positions, with the notable exception of the economy portfolio that will go to Martin Lousteau, a 36-year-old economist with banking experience.

Kirchner will have her work cut out in seeking to tackle high inflation and low foreign investment that threaten the economic recovery her husband oversaw in the wake of a 2001 collapse that led to a historic debt default and devaluation of the peso.

The promise of continuity has played heavily in her favor at the polls, but experts say she will need to make some crucial adjustments to her husband's generally popular policies.

While Argentina's economy had grown by nearly 50 percent during Nestor Kirchner's term, and unemployment had halved, the recovery is seen as fragile.

Analysts say the new president's main challenges will be in managing the economy, though she will also face pressure to find a solution to the rising crime rates.

Kirchner began her political career as a provincial deputy in 1989, and later went on to become a national legislator, gaining notoriety for her vocal battles with then president Carlos Menem.

Since 2005, she has been a senator for the province of Buenos Aires, home to 40 percent of Argentina's electorate.

Her left-of-center politics, like those of her husband, are described as Peronist, a vaguely defined political philosophy named after former president Juan Domingo Peron.

The new president has also been compared to the iconic "Evita," Peron's second wife, who had a formidable influence on her husband's government in the 1940s and 1950s but never served as president. Peron's third wife, Isabel, served as president after his 1974 death but was never elected to the position.

On Sunday, both Cristina Kirchner and her husband called on the largest Colombian rebel group, the Revolutionary Armed Forces of Colombia, to free French-Colombian national Ingrid Betancourt, who has been held hostage by the FARC since 2002.

Nestor Kirchner has said he is ready to go into the jungle and negotiate with the FARC Betancourt's release, according to the hostage's husband.