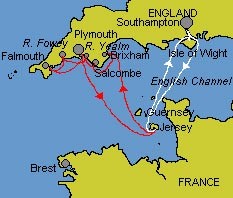 Map of English Channel
A ship with 708 passengers on board caught fire in the English Channel early Saturday but the engine-room blaze was quickly under control, a coastguard spokesman said.
A Dover Coastguard spokesman said the crew had readied lifeboats for evacuation but there would be no need to abandon ship.
"It's very unlikely that they'll abandon now," he said.
A six-strong maritime fire response team had been helicoptered onto the ship and the fire was out, he said.
The blaze started at 3:47 am (0247 GMT) in the engine room and the ship sent an S.O.S. distress signal around 4:00 am. The cause of the fire was not known.
The liner, called the Calypso, was 20 miles (30 kilometres) off the southeast England town of Eastbourne, Sky News reported.
Most of the passengers were British and the crew was mainly Cypriot.
Source: AFP