A day after Cuban media revealed that a Communist Party summit had approved sweeping economic changes and elected a new leadership — without saying what the changes were or who is now in charge — Cubans hoped to get details in a closing speech by President Raul Castro on Tuesday.
With Raul widely expected to take over from his brother Fidel as the party's first secretary, all eyes will be on the selection of his new No. 2, which could signal a possible favored successor.
Delegates approved about 300 economic proposals in an unanimous vote Monday — including a measure that apparently recommends the legalization the buying and selling of private property.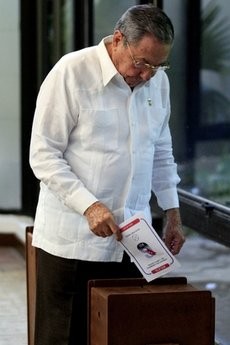 Cuba's President Raul Castro casts his vote to elect the new Cuba's Communist Party Central Committee during a 6th Congress of the Cuban Communist Party session in Havana, Cuba, Monday, April 18, 2011.
Also on the table was a proposal to eventually eliminate the monthly ration book, which provides Cubans with a basic basket of heavily subsidized food and other goods. Other measures covered seed capital for would-be entrepreneurs and eliminating the island's unique dual-currency system.
"The economic policy (approved here) follows the principle that only socialism can preserve the victories of the revolution," said Marino Murillo, an ex-economy minister who has been put in charge of implementing the reforms.
Cubans were treated to a two-hour broadcast late Monday of Communist Party committee members debating the finer details of a document that has not yet been made public, although it is based on proposals that have been discussed extensively in recent months.
Delegates could be seen referencing subclauses by number and flipping through pages in front of them, as projectors juxtaposed close-ups of original and revised texts. At one point, a committee discussing changes to agricultural laws proposed and voted on a small change in the wording of one sentence covering artificial insemination of livestock.
"We need to emphasize in the guideline that we should be aiding genetic development and artificial insemination," said one delegate.
"We are in agreement with the proposal," another committee member replied, before the discussion turned to ways to spur greater milk production.
The Party Congress does not have the power to enact the changes into law, but the suggestions are expected to be acted upon quickly by the National Assembly over the coming days and weeks.
Officials called the gathering to set a new course for Cuba's economy and rejuvenate an aging political class comprised largely of octogenarians who led Cuba's 1959 revolution.
On Monday, an official photograph shot inside the spacious convention hall where the party confab was taking place showed Castro placing his vote inside a ballot box. "Candidacy for Members of the Central Committee," it read. A box that said "Vote for All" was checked on the ballot, indicating that Castro had approved an entire slate of candidates, though their names were not visible.
Fidel and Raul Castro have held the top two spots in the Communist Party since its creation in 1965. But at this year's Sixth Party Congress, there is an air of mystery surrounding the leadership vote.
In March, Fidel, 84, announced he had resigned as first secretary of the party when he ceded the presidency to Raul several years ago, although the party's website still lists him as its leader.
In a speech opening the Congress this weekend, Raul warned that a new generation is needed to take over when the old guard is gone.
He even proposed term limits for officials including the president — a taboo subject during the half-century in which Cuba has been ruled by either him or his brother. The goal is to create opportunities for younger politicians to get experience, Raul said.
The speech intensified speculation the job might go to someone such as Lazaro Exposito, the young Communist Party chief in Santiago de Cuba, or Murillo, the ex-economy minister who has had a leading role at the Congress.
Officials have emphasized that the changes are meant to "update" Cuba's economic model. State TV repeated Monday night that their objective is to "guarantee the continuity of socialism in Cuba."