Cuba rejected Thursday the UN Security Council's condemnation of

Syria

's deadly crackdown on anti-regime protesters, expressing "confidence" the country will resolve its own internal problems.
"We reject any attempt to undermine the independence, sovereignty and territorial integrity" of Syria, Vice Minister of Foreign Affairs Marcos Rodriguez said in a statement.
He expressed Cuba's "deep concern" over the way the UN Security Council dealt with Syria "under heavy pressure from Western powers."
The UN Security Council Wednesday condemned Syrian President Bashar al-Assad's brutal repression of protesters and said those responsible should be held accountable, in its first pronouncement on Syria since the protests began.
Unable to agree on a formal resolution, the council settled on a non-binding statement condemning "the widespread violations of human rights and the use of force against civilians by the Syrian authorities."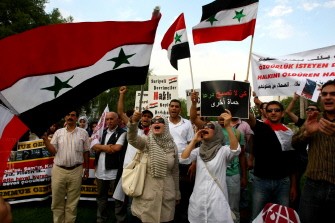 Members of a pro-Islamic human rights group chant slogans, wave flags and carry signs calling for the removal of Syrian president Bashar al Assad and his regime during a demonstration outside the Syrian Embassy in Ankara, on August 1, 2011.
Western powers had hoped for stronger action but were rebuffed by veto-wielding members Russia and China, who feared doing so would pave the way for another military intervention like the one in Libya.
"Cuba reiterates its confidence in the capacity of the Syrian people and their government to resolve internal problems, without any foreign interference, and demands to the full respect of this Arab country's free self-determination and sovereignty," the Rodriguez statement read.
Assad visited Cuba in June 2010, when he renewed friendly ties between the former Cold War allies.