Cubans worried about political turmoil expressed relief on Wednesday that ailing leader Fidel Castro was apparently recovering from intestinal surgery that forced him to hand over power to his brother six months ago.
Cuban television showed images of Castro on Tuesday night for the first time since October 28. His illness is a closely guarded state secret.
The 80-year-old leftist firebrand looked stronger and in better spirits than in the previous video, but still frail, in the images from a two-hour meeting on Monday with Venezuelan President Hugo Chavez, his closest ally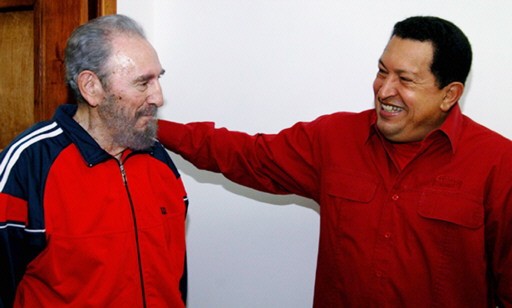 Picture release by Cuban newspaper Juventud Rebelde, 30 january 2007, shows Cuban President Fidel Castro (L) and his Venezuelan counterpart Hugo Chavez
"This is the best present you could give me in the new year," said Antonio Serrano, a tourism trade worker in Havana.
"I was depressed and the images I saw of him on the TV lifted my spirits," said Clara Buena, a retiree in Santiago, Cuba's second city.
But some were annoyed they only got to learn about his condition for the first time in three months through the visit of Chavez.
"All Cubans want to know how Fidel is. What I cannot understand is that we almost always get to see him only when Chavez visits," said Jose Alberto, an engineer, aged 37. "It is not right that we have to wait so long."
Whether they support his government or not, Cubans widely admire Castro, the only leader they have known since he took power in a 1959 revolution and turned Cuba into the Western Hemisphere's only communist state.
Castro's health crisis has caused deep uncertainty about Cuba's future since an announcement on July 31 he had temporarily handed over power to his brother, Defence Minister Raul Castro.
While most Cubans want to see economic reforms and better wages to relieve widespread hardship, they fear political change will bring social upheaval and possible violence.
"This is far from being a lost battle," Castro said about his health in the latest video clip.
The images of him standing, sipping orange juice and browsing through newspaper clippings with Chavez appeared to support official assurances Castro was on the mend.
No details have been given by tight-lipped officials in Havana. But Chavez has spoken regularly about his mentor's health, denying he had terminal cancer as the U.S. government suspected.
A Spanish doctor who examined the Cuban leader said he was making a slow but progressive recovery from complications.
Chavez said on January 19 that Castro was "fighting for his life." A few days later, he said Castro was up and walking, adding in a light-hearted tone that he was almost jogging.