The ruling Communist Party of Cuba Monday lifted a decades-old ban on private property transactions such as buying and selling of houses and cars at its ongoing Sixth Congress.
The move met one of the main demands made by the public during the national debate on Cuba's economic reform plan from December to February, in which 8.9 million Cubans, or nearly 80 percent of the country's total population participated.
In Saturday's opening address to the congress, Cuban Leader Raul Castro said the Caribbean island nation is upgrading legal regulations related to private property transactions.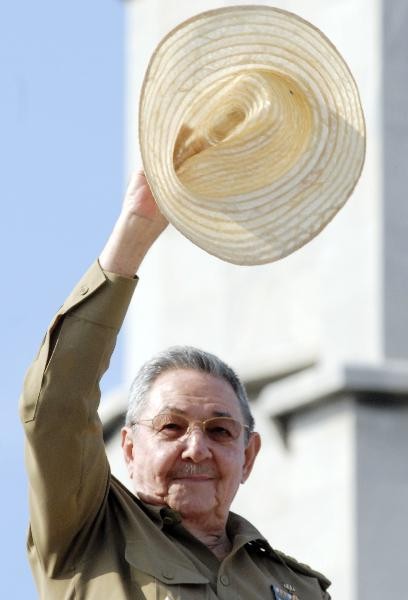 Cuba's President Raul Castro waves during a military parade in Cuban capital Havana April 16, 2011. Cuba staged a massive military parade on Saturday to celebrate the 50th anniversary of the 1961 defeat of CIA-backed exiles at the Bay of Pigs
At present, about 90 percent of Cubans own houses but are not authorized to sell them, while the country currently is short of over one million houses due to the damages caused by three hurricanes in 2008.
The sale of cars is currently controlled by the state, and only artists, athletes and doctors working in missions abroad are allowed to purchase cars.
The party congress opened Saturday with attendance of some 1,000 delegates to ratify Cuba's economic reform plan proposed by Raul in a bid to overcome the country's economic crisis.
The congress started Monday to elect members to the party's 100-strong central committee. Delegates will also renew 19 members of the party's Political Bureau and 10 members of its Secretariat before they wrap up the congress Tuesday.
In another related development, the Cuban authorities have turned over 63 percent of idle land to new owners in order to boost agricultural and food production.
Petro Oliveira, director of Cuba's National Earth Control Center, said that the Cuban government is studying further amendments to increase the delivery of land and food production.
Cuba now imports about 80 percent of its food consumption at an annual cost of about 1.5 billion U.S. dollars.