WASHINGTON, April 1, 2010 (AFP) - German automaker Daimler pleaded guilty to US charges of bribery and agreed to pay 185 million dollars to settle the affair, the US government said Thursday.
The Justice Department said Daimler and three of its subsidiaries had resolved charges related to a Foreign Corrupt Practices Act (FCPA) investigation into the company's worldwide sales practices.
US District Court Judge Richard Leon approved the settlement at a hearing Thursday in Washington.
"Daimler AG's Russian subsidiary DaimlerChrysler Automotive Russia SAO (DCAR), now known as Mercedes-Benz Russia SAO, and its German subsidiary, Export and Trade Finance GmbH (ETF), each pleaded guilty to criminal informations charging the companies with one count of conspiracy to violate the anti-bribery provisions of the FCPA and one count of violating those provisions," the Justice Department said in a statement.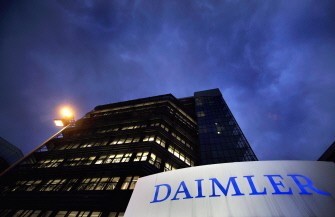 A sign reading Daimler can be seen in front of the Mercedes Benz plant of German auto giant Daimler AG in Stuttgart-Untertuerkheim, southern Germany on March 25, 2010. AFP photo
As part of the plea agreements, DCAR and ETF agreed to pay criminal fines of 27.3 million dollars and 29.12 million dollars, respectively, part of the 93.6 million in criminal fines and penalties that Daimler and its subsidiaries paid in total, it said.
"These are significant and widespread violations," said prosecutor John Darden, speaking in federal court on behalf of the US government.
Darden noted that the sentence is clearly below federal sentencing guidelines.
"Daimler showed excellent cooperation," said Darden. "The company has undertaken an effort to clean its own house. That reflects a serious change of mind on part of Daimler. This deserves credit."
Judge Leon acknowledged that it was "a very complex case" as he accepted the plea agreement.
In a separate, related civil case, Daimler agreed to pay 91.4 million dollars to settle a case filed by markets regulator the US Securities and Exchange Commission.
Daimler had earlier admitted to making hundreds of improper payments worth tens of millions of dollars to foreign government officials in at least 22 countries between 1998 and 2008, according to a deferred prosecution agreement filed in a Washington court.
The kickbacks of cash and gifts of luxury armored cars, golf clubs and vacations helped secure government contracts worth millions of dollars in China, Russia, Thailand, Greece, Iraq and other countries.
Prosecutors recommended that the judge impose the 93.6-million-dollar fine and accept the guilty plea of two Daimler subsidiaries. They noted that Daimler had mended its ways and cooperated fully with the investigation.
Daimler regularly presented its findings to prosecutors, fired 45 employees implicated in the bribery and reformed its practices, prosecutors wrote.
The fines are significantly smaller than the 800 million dollars German industrial giant Siemens paid in 2008 to settle a US investigation into its bribery of officials to secure contracts in Argentina, Bangladesh, Iraq and Venezuela.
The bribery first came to light in 2004 when a former Daimler employee filed a whistleblower complaint saying he'd been fired for voicing concern about secret accounts maintained to pay the bribes.