US President Barack Obama turned from winning trade deals to trying to dance his way into Indian hearts Sunday, forging a connection with India's dynamic youth on the second day of a state visit.
Obama was hosting a town-hall style meeting, similar to hundreds of campaign events he has held over the last four years in the United States, leveraging his personal charisma in a dialogue with students on nationwide television.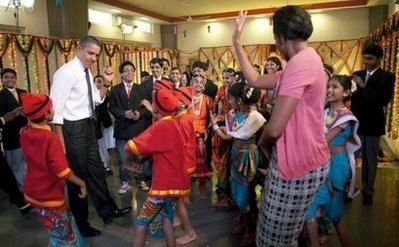 US President Barack Obama and First Lady Michelle Obama dance during a cultural event at The Holy Name High School in Mumbai.
His wife Michelle was again a hit, exuberantly dancing with local children, even coaxing her more reticent husband to join in, after her earlier energetic dance routine with kids Saturday hit newspaper front pages.
"When Michelle Got Into the Groove," headlined the Hindustan Times.
Later, the couple was headed to New Delhi for the official part of their state visit and an evening dinner with Prime Minister Manmohan Singh.
Town hall events are used to capitalize on Obama's biography, political skills and appeal to young people, though the idea that the president's character alone can forge foreign policy progress has been somewhat devalued.
At a similar event in Shanghai last year, Obama issued a call for freedom of expression, in an only partially successful bid to evade Chinese censorship.
In his first stop Sunday, the Obamas dropped protocol and danced with young children celebrating the Diwali Hindu festival of lights, after watching girls in bright colored saris perform a traditional dance.
By opening his three-day stay Saturday in India at the Taj Mahal Palace hotel, the centerpiece of November 2008 terror attacks, and by visiting a home used by independence hero Mahatma Gandhi, Obama has sought to dispel an impression that US-India ties have declined under his watch.
Most Indian newspapers on Sunday noted that Obama failed to mention Pakistan during his speech on the terror attacks at the Taj, which were blamed on the Lashkar-e-Taiba (LeT) group, which is based on Pakistani soil.
Washington maintains an uneasy anti-terror alliance with Pakistan, India's arch-regional rival which is suspected of funding militant groups that target New Delhi.
The Indian media also hailed a new closeness between New Delhi and Washington, which many said reflected the rise of India as a dynamic and increasingly open economy.
Obama started his India visit, the first stop of a four-nation Asian tour on Saturday, unveiling 10 billion dollars in trade deals designed to bankroll US jobs after voters handed him a severe rebuke in mid-term elections last week.
"As we look to India today, the United States sees an opportunity to sell our exports in one of the fastest growing markets in the world," he told business leaders.
Commercial agreements included a 7.7-billion-dollar contract for Boeing to supply 30 of its 737 aircraft to India's SpiceJet airline.
Obama said there was still "enormous untapped potential" in trade between the two countries and announced the relaxation of technology export restrictions imposed after India's nuclear tests back in 1998.
That included lifting bars on India's purchase of so-called "dual use" technologies that have civilian or military applications.
He urged India to play its part by implementing "a steady reduction in trade barriers" in sectors from retail to telecommunications as he outlined a vision for India to become one of the United States' top trading partners.
Obama's itinerary in New Delhi also includes an address to parliament, meetings with Singh and President Pratibha Patil, plus the leader of the ruling Congress party, Sonia Gandhi.
He will also visit the Raj Ghat, the site of the Gandhi's cremation after his assassination in 1948. Obama visited Gandhi's former home in Mumbai on Saturday.