Danish police said Saturday they shot and arrested an axe-wielding Somali man who tried to kill a cartoonist whose depictions of the prophet Mohammed infuriated Muslims.
The 28-year-old who lives in Denmark but was not identified broke into the home of Kurt Westergaard in the western city of Aarhus late Friday. Police guards shot and wounded the intruder before arresting him.
The Somali national had terrorist intent and was close to the radical Somali Shebab movement and leaders of Al-Qaeda in East Africa, the internal security service PET said in a statement.
Westergaard, who has received several death threats since a Danish newspaper five years ago published his drawing featuring Mohammed wearing a turban in the shape of a bomb, was at his home with a five-year-old granddaughter when the intruder tried to get in.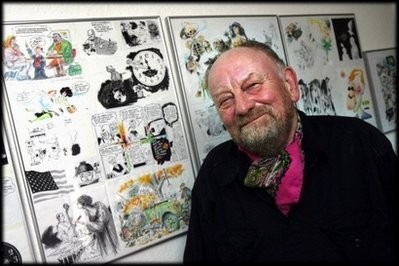 This 2006 photo shows Danish cartoonist Kurt Westergaard posing at his home in Viby, near Aarhus
"I locked myself in our safe room and alerted the police. He tried to smash the entrance door with an axe, but he didn't manage," Westergaard, 74, told Danish news agency Ritzau.
"He used insults, I don't remember which, but it was bad language. He spoke poor Danish and he wound up saying he'd be back," said the badly shaken cartoonist.
Bent Preben Nielsen, chief police inspector for East Jutland, told AFP that police fired at the aggressor who was threatening them with an axe and a knife, hitting him in the hip and the right hand.
The Somali, who was taken to hospital but whose injuries were not life-threatening, would be charged with "attempted murder of Kurt Westergaard and a policeman," East Jutland police chief Mikael Larsen said in a communique.
PET said in its statement: "The attempted murder of cartoonist Kurt Westergaard is linked to terrorism. The person arrested... has close links with the Somali terrorist organisation Al-Shebab as well as with the heads of Al-Qaeda in East Africa.
"He is also suspected of being implicated in terrorist activities when he was in east Africa. The individual arrested has also been a member of a terrorist network implanted in Denmark that has been under surveillance by PET for a long time."
Westergaard is one of 12 cartoonists whose drawings of the Muslim prophet were first published in Danish newspaper Jyllands-Posten in September 2005.
The 12 cartoons were considered offensive by many Muslims and their publication sparked violent protests worldwide in January and February 2006.
Two Tunisians were arrested in Denmark in 2008 on suspicion of planning to murder Westergaard, and later released without trial after they appealed a government order for their expulsion on national security grounds.
Demonstrators burned Danish flags in protests that culminated in February 2006 with the torching of Danish diplomatic offices in Damascus and Beirut and dozens of deaths in Nigeria, Libya and Pakistan.
Internet hackers last April attacked a website run by Denmark's Free Press Society selling prints of Westergaard's controversial cartoon, the group's director Lars Hedegaard said.
Despite the hacking, Hedegaard said close to "600 of the one thousand signed prints" had been sold, over half of them to foreign buyers, for 250 dollars apiece.
Denmark's 200,000 Muslims make up 3.5 percent of the population and are the country's second largest religious community after the state-run Lutheran Church.