The virus may be spreading despite measures such as slaughtering poultry flocks in infected areas, the UN Food and Agriculture Organization (FAO) warned, urging other countries in the region to step up precautionary measures.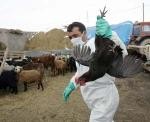 An official collects poultry for destruction in Dogubayazit, eastern Turkey, 10 January 2006
"The highly pathogenic avian influenza virus H5N1 could become endemic in Turkey and poses a serious risk to neighbouring countries," senior animal health officer Juan Lubroth said in a statement.
   "The virus may be spreading despite the control measures already taken. Far more human and animal exposure to the virus will occur if strict containment does not isolate all known and unknown locations where the bird flu virus is currently present," he said.
   Turkey insisted Wednesday it had the outbreak under control after 15 confirmed cases of the virus in humans, including two children from the same family who became the first human fatalities outside Southeast Asia and China where more than 70 have died since 2003.
       Source: AFP