YOGYAKARTA, Indonesia, Nov 14, 2010 (AFP) - Indonesia's most active volcano began to ease off Sunday after killing 242 people in a series of violent blasts over more than two weeks, a volcanologist said.
Villages surrounding Mount Merapi on Java island remained on "highest red alert" but the government reduced the danger zone around the volcano, senior volcanologist Sukhyar said.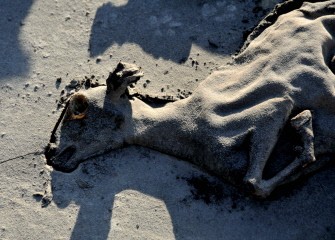 Volcanic ash from the Mount Merapi volcano covers a dead farm animal in the Indonesian village of Cangkringan on November 14, 2010. AFP
"The energy of the Merapi has reduced significantly since November 8 compared to the previous days. We only detected one or two heatcloud emissions," he told a press conference in Yogyakarta, capital of Central Java.
"This is not a rash decision as we had carried out an evaluation based on our observations of the volcano," he added.
A 20-kilometre (12-mile) "danger zone" was reduced to 10 kilometres in Boyolali and Klaten districts and 15 kilometres in Magelang district.
"We maintained the current danger zone of 20 kilometres for Sleman district because the heatclouds are mostly going in that direction," he said, referring to the most affected southern slopes.
Merapi, a sacred landmark in Javanese tradition whose name translates as "Mountain of Fire", had claimed 242 lives since it began erupting late October. Nearly 400,000 people have fled their homes.
Many of the dead were buried under fast-flowing torrents of boiling hot gas and rock that incinerated villages when the volcano exploded on November 5 in its biggest eruption in over a century.
Although there has been no report of volcanic ash clouding the area around Jakarta, 430 kilometres to the west, dozens of international flights were cancelled last week for safety reasons.
The ash also forced US President Barack Obama to cut short his trip to the sprawling archipelago last Wednesday.
Merapi killed around 1,300 people in 1930 but experts say the current eruptions are its biggest since 1872.