The death toll from the collapse of a giant chimney in central India climbed to 39 on Saturday as rescue personnel combed debris to look for trapped workers, a police officer said.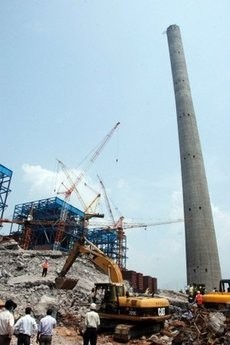 Indian rescue workers attempt to free bodies at the site of a chimney collapse in Korba. (AFP Photo)
"We have pulled out 39 bodies so far. We have identified 36 of the dead," said Vivek Sharma, a senior police officer in Korba town in central Chhattisgarh state, who was investigating the disaster.
The accident took place Wednesday when a 100-metre (330-foot) chimney under construction at a power plant in the state collapsed in bad weather, killing 20 instantly and leaving scores trapped under tonnes of concrete.
The company constructing the chimney was Balco, a subsidiary of London-listed resources giant Vedanta Plc.
"We have looked through about 65 to 70 percent of the debris. There is very little hope of finding survivors at this stage," Sharma told AFP by phone.
Hundreds of rescue workers have been struggling to remove a huge pile of smashed concrete that covers the site where the partially built chimney stood.
Sharma said a lack of a formal list of labourers who were working on the site was hampering efforts to locate all the workers.
"We have compiled a list of up to 60 people who are missing. Some of these people are in the list of those dead but we have no way of knowing how many were actually working here when the accident happened," he said.
Most of the labour employed at the construction site were migrant workers from neighbouring Jharkand and Bihar states and "they have no families to report them as missing", Sharma said.
"I can't say all of them have died or are trapped. Some people could have just left the site after the accident," he added.
On Thursday, a top union official at the company building the chimney told AFP he feared that over 100 workers had been killed.
Police are also searching for several officials involved in the chimney construction who appear to have gone into hiding.
Minor construction site accidents are relatively common in India, where health and safety rules are routinely flouted, though this is one of the worst in recent history.