The death toll from a devastating suicide car bombing in northwest Pakistan has risen to 93, marking a bloody start to 2010 for the insurgency-hit nation, police said on Saturday.
The bomber detonated his explosives-packed vehicle on Friday as fans gathered to watch two local teams face off in a volleyball tournament in a village near the Taliban's South Waziristan stronghold.
Security has been tightened across Bannu district, which borders South Waziristan, following the blast in Shah Hasan Khan village, police said.
"Five more people died overnight in a government's main hospital in Lakki Marwat town rising the death toll to 93," district police chief Mohammad Ayub Khan told AFP.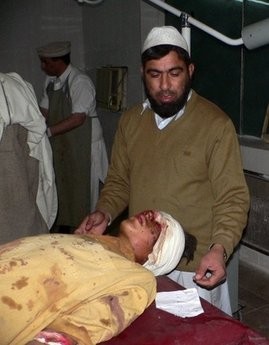 A Pakistani paramedic gives treatment to an injured suicide blast victim at a hospital in Bannu late on January 1.
The huge blast was Pakistan's deadliest in more than two months, triggering the collapse of more than 20 houses, some with families inside.
The bomber appears to have used 300 kilograms of explosives, Khan said, adding that a three-member team had been formed to investigate the attack.
It was the highest death toll from a suspected militant strike since a massive car bomb on October 28 killed 125 people in a crowded market in the northwestern provincial capital Peshawar.
The bombing marked a bloody start to 2010 for Pakistan, which has seen a surge in attacks blamed on the Taliban in recent months as Islamist fighters avenge military operations aimed at crushing their northwest strongholds.
The attack was condemned by Britain and the United States, with Secretary of State Hillary Clinton vowing the US would continue supporting Pakistani people "in their efforts to chart their own future free from fear and intimidation".
Security has plummeted over the past two-and-a-half years in Pakistan, where militant violence has killed more than 2,800 people since July 2007.
The northwest has suffered the brunt of the militant campaign, with suicide bombings increasingly targeting civilians.
A spokesman for local police, Shahid Hameed told AFP that the funerals for those killed in the attack would be held on Saturday. He did not, however, disclose the place and time for "security reasons."
The military is now locked in its most ambitious assault yet on Taliban strongholds in South Waziristan, sending 30,000 troops into battle in the district on the Afghan border on October 17.
But Washington is urging Pakistan to do more to stamp out Al-Qaeda sanctuaries and dismantle havens of militants who cross the border and attack US and NATO troops stationed in Afghanistan.