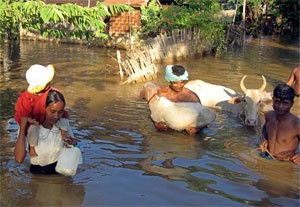 A family moves to a safer place with their livestocks through a flooded street in the outskirts of Mandalay in central Myanmar on October 17 2006.
The death toll from severe flooding in Thailand and neighboring Myanmar has hit 102, as water levels in the kingdom's central provinces remain high, the government said Wednesday.
Eighty-three people have died in Thailand since severe flooding began in late August in central and northern provinces, the interior ministry said in a statement.
One person drowned in a central province overnight, the ministry said, adding that nine deaths reported earlier were also confirmed as flood victims.
The water that inundated northern Thailand is slowly working its way south, and 16 central provinces are still suffering from the floods.
At their peak last week the floods, triggered by heavy rains from Typhoon Xangsane, affected 46 of the nation's 76 provinces.
In neighboring Myanmar, official media said 19 people had died in floods across the central and eastern parts of the country. In most places, the water has already subsided.
All the victims in Myanmar were in the region around the central city of Mandalay, where the floods wiped out part of the road leading to the airport.
Thai weather authorities say they expect unusually heavy seasonal rains to wreak havoc in central and northern Thailand until the end of October, before moving south.