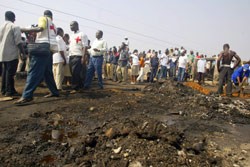 Red Cross Officials walk past the scene of the oil pipeline fire in Abule Egba, on the outskirts of Lagos, Dec. 27, 2006 (AFP Photo)
The death toll in the oil pipeline fire in Nigeria's main city Lagos has risen to 284 after 15 more of the injured died in hospital, medical authorities announced Friday.
Most of the victims received a mass burial early Wednesday.
The pipeline was reportedly vandalised before dawn Tuesday by thieves stealing fuel on a large scale and using petrol tankers to drive it away. The fire broke out as local residents arrived with jerrycans to help themselves to small quantities of fuel.