Iran on Wednesday test-fired what it said was a faster version of a medium-range missile which could allow it to strike Israel, drawing international censure and warnings of "serious" fallout.
The defiant test of the Sejil 2 (Lethal Stone) missile comes as world powers mull fresh sanctions against the Islamic republic for its controversial nuclear enrichment programme.
"It hit the defined target," state television reported.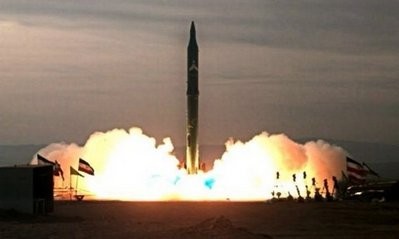 Picture obtained from the Iranian ISNA news agency shows the test-firing at an undisclosed location in Iran of an improved version of the Sejil 2 medium-range missile which the Islamic republic says can reach targets inside Israel
The two-stage Sejil, powered by solid fuel, is capable according to Iran of travelling 2,000 kilometres (1,240 miles), which would put arch-foe Israel, most Arab states and parts of Europe, including much of Turkey, within range.
The firing of the Sejil 2, which was first tested in May, undermines Iran's claim of peaceful intentions and increases world resolve against Tehran's nuclear aims, was the reaction from the United States. Overview of Iran's missile arsenal
US Defence Secretary Robert Gates was "clearly concerned" over the test, his press secretary said.
"This is just the latest in a series of provocative actions by Iran, all seemingly oblivious to the scrutiny of the international community or perhaps more likely in spite of it," Geoff Morrell told reporters.
"At a time when the international community has offered Iran opportunities to begin to build trust and confidence, Iran's missile test only undermines Iran's claim to peaceful intentions," he said.
"Such actions will increase the seriousness and resolve of the international community to hold Iran accountable for its continued defiance of its international obligations."
British Prime Minister Gordon Brown, who discussed the development with UN chief Ban Ki-moon at the climate summit in Brussels, said the test was a matter of "serious concern" and makes the case for "moving further on sanctions."
France said the test sends a "very bad signal," while Germany labelled it "alarming," but there was no early reaction from Israel.
The major powers negotiating with Iran on its controversial nuclear programme are to discuss the situation next week by telephone, probably on Tuesday, a US diplomat said, on condition of anonymity.
Iranian Defence Minister Ahmad Vahidi said the latest version of the Sejil was "impossible to destroy" because of its "very high speed."
Vahidi, quoted by the Fars news agency, said the modifications allowed a "reduction in the time needed to launch the missile ... which improves (Iran's) defensive capacity."
Wednesday's test, he said, was aimed at bolstering his country's defences, and insisted the missiles would not be used for offensive purposes.
"The missile test that we witness today is one ring of our defence capability chain in line with increasing the armed forces' deterrent power," said the defence chief.
The United States and its regional ally Israel have not ruled out a military option to stop Tehran's controversial nuclear drive.
Iran is under three sets of UN sanctions for refusing to suspend enrichment and risks a further round after rejecting a UN-brokered deal to send its low enriched uranium abroad to be further refined into fuel for a research reactor.
Enrichment lies at the heart of fears over Iran's atomic work as the process to make nuclear fuel can also be used to make the fissile core of an atom bomb in much higher purifications.
Iran's hardline President Mahmoud Ahmadinejad on Wednesday scoffed at Western suspicions that it aims to build a nuclear weapon.
"It's true that we have a lot of enemies, but we don't need an atomic weapon to defend ourselves," he said in an interview with Danish television, extracts of which were carried by Iran's state news agency IRNA.
"The Islamic Republic of Iran opposes the nuclear bomb," which failed to save the Soviet Union from collapse, and Tehran supports nuclear disarmament, he insisted.
"When we want to do something, we say it clearly," Ahmadinejad added in reference to the West's suspicions.
In Washington, Eric Cantor, the number two Republican in the House of Representatives, said President Barack Obama should "immediately" rally the world behind a new round of punishing sanctions.
In late September, Iran test-fired the previous version of Sejil, another similar-range weapon, the Shahab-3, and a host of shorter-range missiles as part of a military exercise.
Those tests, which came ahead of key nuclear talks between Iran and six world powers in Geneva, also drew the ire of the West.