Israel on Monday gave the go-ahead to build hundreds of new homes in settlements in the occupied West Bank, defying warnings that the move jeopardises any resumption of Middle East peace talks.
Defence Minister Ehud Barak authorised the construction of 455 units, most of them in the large settlement blocs that Israel has said it wants to keep in the event of a final peace agreement.
The move -- coming just days ahead of a planned visit to the region by US Middle East envoy George Mitchell -- has sparked criticism that it will undermine US-led efforts to restart the stalled peace process.
"Israel's decision ... nullifies any effect that a settlement freeze, when and if announced, will have," top Palestinian negotiator Saeb Erakat said in a statement.
"It further undermines faith in the peace process, and the belief that Israel is a credible partner for peace."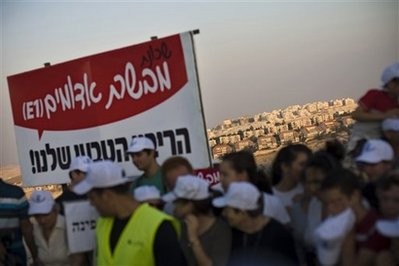 Israeli right wing activists hold up banners as they demonstrate near the West Bank Jewish settlement of Maaleh Adumim, seen in background, on the outskirts of Jerusalem.
When Israel last week announced its intention to approve a spurt of settlement building before considering a halt demanded by the United States, Washington and Europe also warned against the move.
Palestinian president Mahmud Abbas blasted the plans as unacceptable.
He warned that if Israel goes ahead there will be no point in his holding a three-way meeting with Prime Minister Benjamin Netanyahu and US President Barack Obama on the sidelines of the UN General Assembly later this month.
"We will not go back to the negotiating table before a halt to the settlement building," Abbas's spokesman Nabil Abu Rudeina told AFP on Monday in Saudi Arabia.
The Israeli anti-settlement Peace Now group said in a statement that "these building approvals transform any peace process into a political farce."
"The settlers are receiving ... a significant gift from the government of Israel in the form of settlements extending tens of kilometres (miles) deep into the West Bank," it said.
But settler representatives blasted Monday's authorisation as not enough.
"We are extremely disappointed," Pinhas Wallerstein, head of the Yesha settler umbrella organisation, told AFP. "I'm ashamed of the attitude of my government, which is not resisting American pressure."
Later Monday, several hundred opponents of the freeze attended a protest in Maaleh Adumim, the largest West Bank settlement, urging the government to build new settlement neighborhoods.
"The Americans don't run this country, Israelis do," said Science and Technology Minister Daniel Hershkowitz of the pro-settler Jewish Home party, a junior member of the coalition.
Across the other side of a police cordon, dozens of Peace Now activists chanted: "Yes to peace, no to settlements."
Washington has for months pushed Israel to freeze all settlement activity and for Arab states to take steps towards normalising relations with the Jewish state in order to revive peace talks.
Amid media speculation that some Arab states may answer Obama's call and agree to normalisation steps, such as issuing visas or overflight rights, Abbas on Monday called "for a unified Arab stance in face of Israel."
The increased settlement building is part of Netanyahu's efforts to appease the hawks in his right-wing Likud party who virulently oppose any freeze, Israeli analysts say.
Any moratorium on construction would exclude some 2,500 homes already being built in the West Bank, as well as any building in annexed east Jerusalem.
Jewish settlements in the West Bank and east Jerusalem -- together home to some half a million Israelis -- are considered illegal by the international community and one of the thorniest issues in the decades-old Middle East conflict.