BANGKOK, April 15, 2010 (AFP) - Thailand's "Red Shirts" hunkered down in Bangkok's commercial heart Thursday, preparing for a final showdown with the government after the deadliest civil unrest in almost two decades.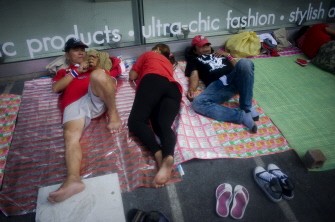 "Red Shirt" anti-government protesters sleep outside a shopping centre in the main shopping district in central Bangkok on April 15, 2010. AFP photo
Prime Minister Abhisit Vejjajiva is under mounting pressure from the demonstrators to call immediate elections after a crackdown on anti-government rallies Saturday sparked fierce clashes that left 22 dead and hundreds injured.
The protesters have moved out of the capital's historic district, the scene of the weekend bloodshed, and converged in an area in central Bangkok that is home to several luxury hotels and major shopping centres.
"If the government still wants to retake this area, we can do nothing except wait. We have overcome fear. Nothing can scare us anymore," said a Reds leader, Nattawut Saikuar.
"We will not accept resignation and a new prime minister. We will only accept House dissolution."
Oxford-educated Abhisit won some respite as his coalition partners said they would remain loyal to the ruling party, which faces possible dissolution over allegations of illegal donations.
The authorities have said they will not try to put down peaceful rallies but have urged the mainly poor and rural Reds to leave the commercial district, where they have disrupted traffic and caused major shopping centres to close.
A crackdown in the area is seen as unlikely because of the risk that children, elderly demonstrators and tourists might get caught up in clashes, as well as the possibility of damage to nearby shopping malls and hotels.
The Reds' rally in the commercial hub near Siam Square has alarmed business leaders who warn of a heavy blow to the Thai economy, but there has been no violence in the area.
Saturday's clashes erupted as the army tried unsuccessfully to clear an area in Bangkok's old city, sparking street battles involving soldiers, red-clad protesters and unidentified gunmen described as "terrorists" by the government.
The Reds have challenged the government's assertion that there were M16 and AK47 assault rifles among the protesters.
"If they can prove those terrorists are related to us, we will take responsibility," said Nattawut. "But can the army deny that those killed during the clashes did not die from army bullets?"
The army has defended its use of guns during the crackdown, saying live shots were only fired in the air or by troops providing cover for soldiers who were themselves under fire.
The government, which imposed a state of emergency in Bangkok and surrounding areas a week ago, has accused ousted ex-premier Thaksin Shinawatra of stoking the unrest, which has prompted growing international alarm.
Speculation has grown over whether the government will call early elections in a bid to defuse the stand-off, but the Reds have insisted they will accept nothing less than immediate polls, saying the time for negotiations is over.
Sixteen civilians, including a Japanese cameraman, and six soldiers died as a result of the clashes, according to the government's Erawan emergency centre.
At least nine protesters died from gunshot wounds, according to an independent autopsy panel.
Another man died of a gunshot wound but it was not clear whether it was linked to the civil unrest, the centre said.
Army chief Anupong Paojinda has said he is in favour of dissolving parliament to resolve the crisis and suggested he was reluctant to use force again to put down the protests after the weekend bloodshed.