A group of about 30 demonstrators stormed the Syrian embassy in Berlin overnight Sunday and confronted the ambassador to Germany, police said, following similar protests in other European capitals.
No one was injured, a police spokesman told AFP.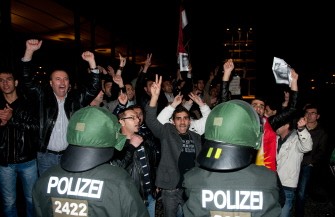 Policemen face demonstrators shouting in front of the Syrian embassy on October 8, 2011 in Berlin
The protesters broke through a gate in the fence and then penetrated the building, where they found the ambassador.
"The ambassador also resides there," the spokesman said. "He alerted the police and asked them to take measures on Syrian territory," he said, referring to the grounds of the embassy.
Police escorted the intruders from the building and took their personal details. Another group of demonstrators had gathered outside the building and pelted it with paint bombs.
The spokesman could not say whether the protesters were Syrian or how many were taken into custody, adding that the investigation was continuing.
The incident came after a mass rally in Syria against the regime of Bashar al-Assad. About 50,000 people gathered for the funeral of Meshaal Tamo, a Kurdish opposition figure killed on Friday.
Syrian security forces killed at least two mourners and wounded several others when they fired on the crowd in the city of Qamishli, activists said.
A demonstration was also held at the Syrian embassy in Vienna, where 11 people were arrested for invading the building and protesting on the embassy balcony overnight Saturday, Austrian police said.
Meanwhile British police said Saturday they had arrested seven protesters outside the Syrian embassy in London, including three men who climbed onto the roof of the building and waved the Kurdish flag.
And late Saturday five Syrian Kurdish protesters were detained for illegally entering the offices of Syria's permanent mission to the United Nations in Geneva