COPENHAGEN, Dec 19, 2009 (AFP) - Denmark can be proud of its efforts to secure an agreement at the UN climate conference, Prime Minister Lars Loekke Rasmussen said on Saturday.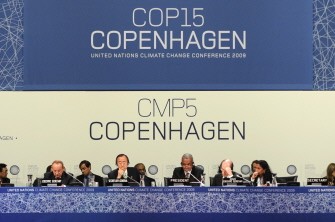 A view of the meeting (AFP photo)
"We made the difference. Denmark can be proud of itself for having built an historic bridge between the parties in the negotiations," Rasmussen told the Danish news agency Ritzau.
"I don't think you could find any example in history where you would have seen the leaders of the United States, Brazil, South Africa and India along with the heads of state from Europe and the small island states threatened by global warming all in the same room, working together as a group."
The Danish premier came in for heavy criticism over his stewardship of the often rancorous 13-day meeting which was due to wrap up on Saturday after a deal was clinched by US President Barack Obama and other major leaders.
Rasmussen said that it was unrealistic to expect Denmark to deliver results on its own.
"I can't just tell the Chinese or the Americans: 'Do this or that'," he said.