CHARSADDA, Pakistan (AFP) – Desperate survivors crushed into relief centres Wednesday after Pakistan's worst floods in living memory as the country braced for more storms that threaten to deepen the humanitarian crisis.
With over three million people hit by the flooding, Prime Minister Yousuf Raza Gilani is to chair a special cabinet meeting to speed up the relief work and estimate the damage -- expected to run into millions of dollars.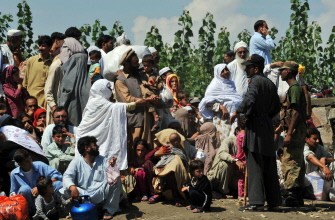 Pakistani flood survivors speak with sucurity personnel as they wait for their turn to board army boats while they are evacuated from the flood-hit Chakdarra area of Swat on August 4, 2010. AFP
Record rains last week triggered floods and landslides that washed away entire villages and ruined farmland in one of the country's most impoverished and volatile regions, already hard hit by Taliban and Al-Qaeda-linked violence.
The international community has mobilised with offers of aid after the flooding that aid workers say has killed 1,500 people and affected 3.2 million, including 1.4 million children, according to UN and Pakistani figures.
"This is a serious humanitarian disaster," the UN humanitarian coordinator for Pakistan, Martin Mogwanja, told AFP, saying that discussions were under way to determine whether the situation warranted a fresh appeal for donor aid.
Anger was at boiling point among impoverished survivors complaining they had been abandoned by the government after their livelihoods were swept away and protesting at a "joy ride" visit to Europe by President Asif Ali Zardari.
Pakistan has issued new flood warnings as the rains spread across the country, threatening to compound the misery of hundreds of thousands of victims. Many have fled disaster areas, their belongings piled into donkey carts and cars, or taken refuge in mosques.
"We are facing severe shortages of food and medicine. People need food, they need medicine. We fear they will be die from hunger if not provided on time," information minister in the northwest, Mian Iftikhar Hussain told reporters.
The United Nations said clean drinking water and sanitation were urgently needed to stop disease spreading after Pakistan's worst floods in 80 years following relentless monsoon rains.
UN World Food Programme (WFP) executive director Josette Sheeran said the agency had was working to hand out supplies to 250,000 people during the week, saying more than 1.8 million people were in need of food assistance.
"Access remains a major challenge to mounting distributions, with many areas effectively cut off," WFP said.
Nadeem Ahmad, chairman of Pakistan's National Disaster Management Authority, estimated that roughly three million people were affected -- 1.5 million in the northwest and the same number in the central province Punjab.
Authorities in the northwestern province of Khyber Pakhtunkhwa issued an alert to people living around Warsak Dam, one of the country's biggest dams and lying outside Peshawar, as water levels rose.
Pakistan's weather bureau forecast widespread rains in the southern province of Sindh, Pakistani-held Kashmir and southwestern Baluchistan, as well as the hardest hit areas in the northwest and Punjab over the next two days.
The military, Pakistan's most powerful institution, said more than 54,000 people had been rescued from flood-hit areas and moved to safer places, with 40 helicopters and 450 army boats mobilised.
The United States, which has pledged 10 million dollars in aid, said it was sending in army helicopters to help with the relief effort.
Canada announced two million dollars in emergency aid while China said it was sending in 1.5 million dollars of supplies, in addition to pledges of aid from the United Nations and Britain among others.
Jamaat-ud-Dawa, a charity on a UN terror blacklist and considered a front for the group blamed by India for the 2008 Mumbai attacks, said it was sending in 10 truck-loads of goods and nine medical teams to Khyber Pakhtunkhwa.
A trail of destruction lined the road from Peshawar to Charsada, one of the worst hit areas, where houses and shops were razed to the ground Wednesday as if a massive earthquake had jolted the region, said an AFP reporter.
Anwer Kazmi, a spokesman for Pakistan's largest charity the Edhi Foundation said it had reports that more than 1,500 people had died, although officials fear the toll could still rise further.
The United Nations has said around 980,000 people had lost their homes or been temporarily displaced.
But 2,000 people, including women in burqas, who thronged the home of a local politician to receive food items in Shah Alam village near Charsadda said they had received no assistance from the government, only local families.
Falak Naz, 28 was visibly shaken. "I am totally helpless now. I built a small house with a lot of effort. It is destroyed. How will I repair it? Will there be any government help? These questions keep haunting my mind," he said.